About Cookies
now browsing by category
Cookies are good for the soul. Remember when mumma or granny gave you a cookie to make you smile (or to shut you up)
Posted by: admin | April 4, 2020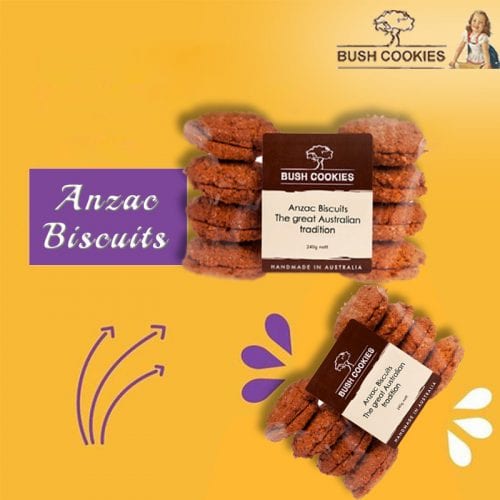 Well we can still have an Anzac Biscuit. We probable cant march this year on Anzac Day due to the important  Covid-19 Virus restrictions, but we can still celebrate the heroic deeds of those who served. Buy Bush Cookies' Anzac Biscuits for your family at your local IGA or order online direct from Bush Cookies.
Bush Cookies a Manufacturer of wholesale cookies in Australia makes a Great Anzac Biscuit. Bush Cookies provides a high quality "High Tea" gourmet cookies and biscuits. We supply great wholesale cookies in Sydney, Brisbane and Melbourne. Bush Cookies also delivers these wholesale cookies online direct in different suburbs of Australia.
Anzac Biscuits are Australian traditional oaten biscuit that is perfect as an all-rounder. Anzac Biscuits by Bush Cookies are handmade gourmet biscuits that you will adore in every moment. These gourmet cookies are ideal for morning tea. You can also enjoy with coffee as an alternative. These biscuits may remind of your grandmother who probably used to make these types of cookies.
For more information, visit our site. Book your favorite bulk biscuits now at parent company operafoods.com.au and get an online discount for volume on these products with home delivery.
Posted by: admin | February 7, 2020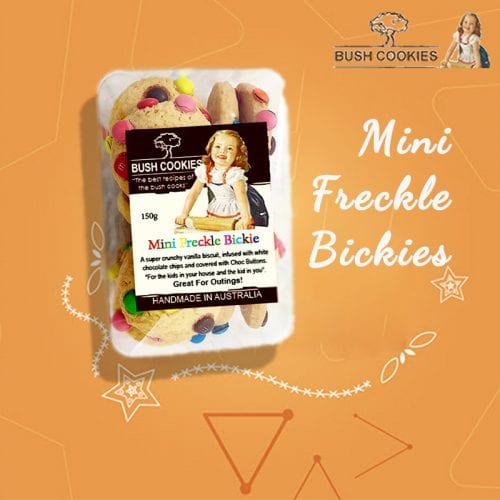 Mini Freckle Bickies by Bush Cookies are yummy gourmet cookies that kids love. These are ideal for kid's snack food and kid's party ideas. Our colorful Freckle Bickies are quite a favorite among children and the mini sized version comes with smaller cookies in an ideal 150 gram pack for the lunch box or snack pack.
They are quite ideal for handy travel and days out. Little people do just love Mini Freckle Bickies. They are a delightful, small package of smaller size cookies perfect for a day out or for reducing kids biscuit consumption.
Mini Freckle Bickies 150g is also popular among our quality range of wholesale cookies and biscuits of Bush Cookies for retailers.
The most appealing aspect of these cookies is that they are loaded with colourful Mini M & Ms. The smaller size candy coated chocolate buttons from, Mars Confectionery.
Visit the Bush Cookies online store to know more details about the product. Through our distributors Bush Cookies supply packaged gourmet cookies to independent grocers and fresh food retailers in Melbourne, Brisbane and Sydney.  Consumers can also buy their favourite products online direct now and get online bulk discounts on this product.
Posted by: admin | December 14, 2019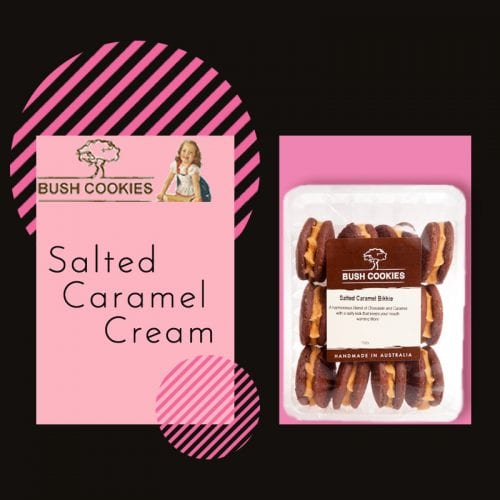 The Bush Cookies brand produce great cookies and salted caramel cream is very popular among them in Australia. Bush Cookies have been established a long time. It is the manufacturer as well as the wholesale suppliers of bulk biscuits to the retailers and independent groceries of Australia. Our Salted caramel cream is one as the crunchiest caramel cream-filled biscuit and is an ideal snack for afternoon tea as well as other social gatherings.
The Salted caramel cream is a yummy handmade gourmet biscuit. Ingredients include sugar, margarine, flour, egg, cocoa powder, caramel, golden syrup, vegetable fat, soy, lecithin, syrup, salt, caramel flavor. It helps to keep your mood healthy and cookies fill that hunger pang that just maybe needs something sweet.
Bush Cookies are one of the best wholesale cookies brands in Australia. Visit our Online Store to order your favorite cookies and bickies and get it delivered directly to your home.
Salted Caramel Cream really is ideal ideal for afternoon tea and any kind of social gatherings
Posted by: admin | November 26, 2019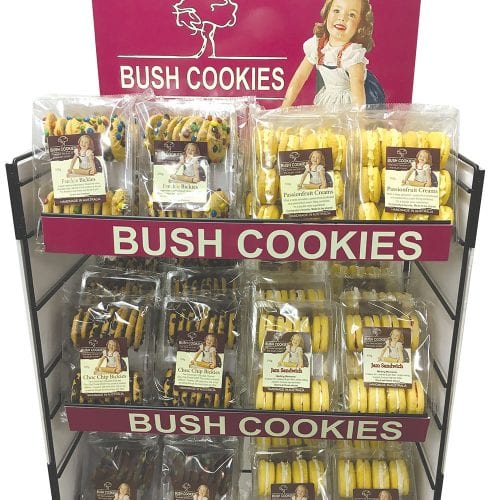 Bush Cookies have announced the establishment of Siena Foods Pty Limited as their new distributor for the Bush Cookies biscuit range in Queensland.
Siena Foods is a long-established SA wholesale food distributor, manufacturer and importer owned and operated by the Mercuri family.
Originally commenced in Adelaide, Siena Foods have expanded to Brisbane now also distribute gourmet and grocery food and also non-food lines, to major supermarket chains, across metropolitan and regional areas of Brisbane and Queensland.
Bush Cookies, a division of the Opera Foods group are proud to be associated with this company that has built a highly respectable reputation in the markets it services.
The Bush Cookies range comprises packaged cookies purpose designed for independent supermarket retailers delicatessens and greengrocers.
Queensland retailers are invited to contact distributors Siena Foods direct for supply of our high-quality packaged biscuits.
Siena Foods Queensland Branch: –
14/65 Christensen Road, Stapylton QLD, 4207
Ph – +61 7 3050 5920 or Fax – +61 7 3041 5029
Hours – Mon to Fri 8am to 4pm
---
This Article was reprinted with permission from an article "Siena Foods New QLD Distributor for Bush Cookies" by Opera Foods.
Posted by: admin | November 14, 2019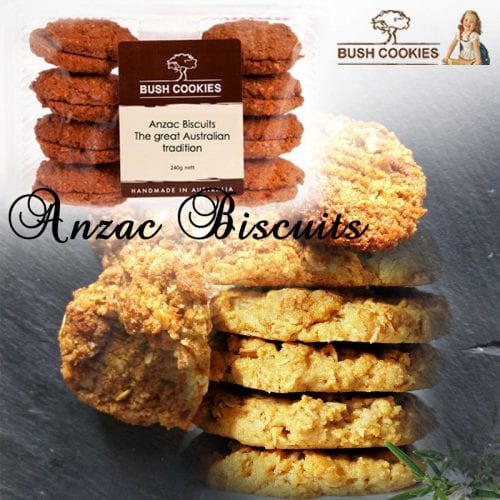 Bush Cookies make tasty and superior Anzac Biscuits. These Anzac biscuits are perfect for morning and evening tea ideas. Anzac biscuits will remind people of the days of grandmothers handmade biscuits. These Anzac biscuits are Australian traditional oaten biscuits which are round in shape. The name of Anzac biscuits is quite common with the traditional Australian oaten biscuits.
This kind of biscuits are similar to hard tack biscuits utilized by the Anzac soldiers during World War I. But they are more like the kind families home baked and sent to the soldiers. These style of  biscuits were always used to make long-life dry rations for the soldiers and sailors. Earlier it was termed as Dhourra Cake by the Egyptian mariners and the Roman people used to term as buccellum in the regions of Roman. It was the British royal navy who first used to mass produce this kind of hardtack bulk biscuits. Anzac biscuits are a modern version of plain hardtack biscuits.
Australian Anzac biscuits are simple and sweet. The main ingredients of Anzac biscuits are sugar, brown sugar, water, golden syrup, milk solids, butter, wheat flour, and baking soda, rolled oats, coconut and many more.
Opera Foods distribute our Bush Cookies brand packaged for independent grocers. Buy Anzac wholesale biscuits now and avail our online discounts on this product.
Posted by: admin | November 3, 2019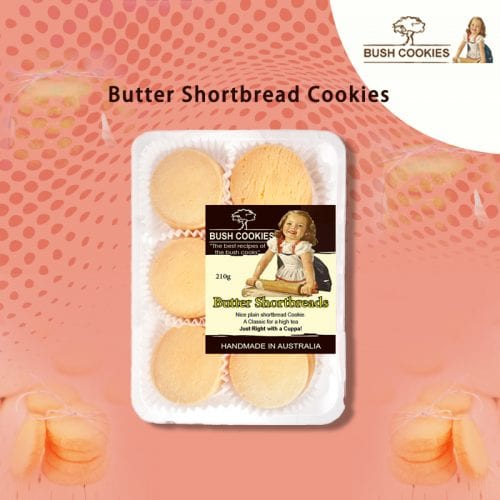 Bush Cookies produce great cookies and Butter Shortbread cookies are very much popular among them. Their nice simple taste that isd  buttery and crunchy makes them an excellent snack with a cup of tea.. Butter shortbread cookies are palatable simple shortbread cookies. Butter shortbread cookies are an ideal crunch for morning and afternoon tea. These cookies are perfect for wedding ceremony, anniversaries and any kind of social gatherings. The ingredients of butter shortbread cookies aresimply  flour, icing sugar, milk, wheaten corn flour, wheat starch, butter and more.
These are handmade wholesale cookies in Australia. Butter shortbread cookies will remind of wonderful that old fashioned butter cookies which is used to available in tins during Christmas time. Shortbread recipes were initially imported NSW Australia, but it gradually became popular in different parts of the countries among outback cooks for their simplicity. Our butter shortbread cookies are generally of round shapes.
Bush Cookies are producers of Café Biscuits wholesale. Retailers can contact our parent Company, Opera Foods to order in bulk. We provide unique brands of fresh packaged biscuits & cookies at an affordable price for independent grocers.
Posted in About Cookies | Comments Off on Butter Shortbread Cookies are Perfect for Morning Tea or Afternoon Tea
Tags: biscuit distributor, bulk biscuits, bulk biscuits suppliers, bush cookies, butter shortbread, cafe biscuits wholesale, cookie wholesale distributors, packaged cookies, shortbread, wholesale biscuit suppliers, wholesale biscuits, wholesale cookies

Posted by: admin | October 23, 2019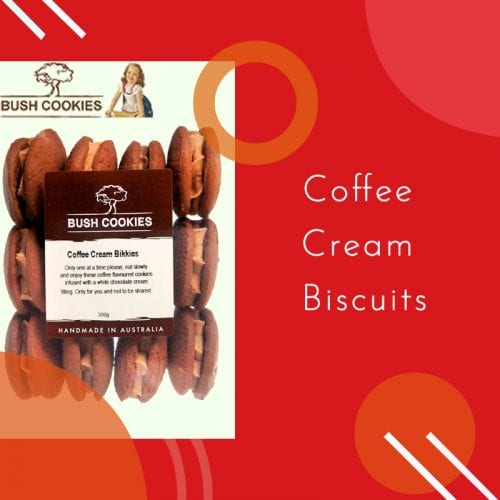 Coffee cream biscuits are delightful and pleasant-tasting biscuits from the Bush Cookies brand. These Coffee Cream biscuits will make your day and mood with its nice flavor and aroma. These are magnificent gourmet cookies as well as biscuits. Bush Cookies are wholesale food suppliers for large bulk of snack foods as well as cookies. Aromatic Coffee cream biscuits are perfect for morning and evening tea ideas with a cup of hot coffee. These cookies are quite popular among the quality range of biscuits of Bush Cookies.
The ingredients of coffee cream wholesale biscuits are sugar, margarine, wheat flour, flour, milk, egg, coffee flavour natural, syrup, coffee, salt, caramel colour, vanilla bean.
Visit our online store and know more details about our product. Buy coffee cream biscuits and avail online discounts on this product.
Posted by: admin | October 12, 2019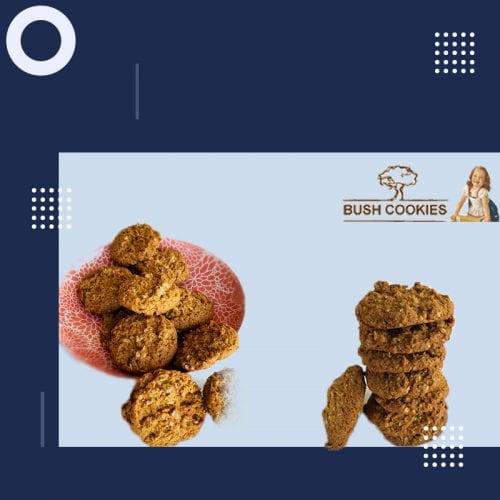 Anzac Biscuits is a colloquial name given to oaten biscuits. They should never be referred to as a Anzac cookies. The name stems from the most common biscuit parcels sent to the Diggers. Also and their similarity to hardtack  biscuits traditionally used by the armed forces. They are produced in Australia by the brand name of Bush Cookies.
Bush Cookies is one of the oldest bakers of Australian hand made packaged wholesale biscuits and cookies. It is an Australian manufacturer as well as a supplier of bulk biscuits to grocery retailers. Anzac Biscuits are referred to as the traditional oaten Australian biscuit that is generally round in shape.
Aussie Anzac biscuits are basically handmade gourmet biscuits. It is generally taken with morning teas and evening snacks. Our Anzac biscuits are made up of sugar, water, golden syrup, milk solids, butter, brown sugar and many more. It is rich in protein, fats, carbohydrates, sodium, and sugar. The ingredient of Anzac biscuits makes it crunchier and softer as well as slightly sugary although it cannot be completely regarded as the classical sweet biscuit.
Bush Cookies is a registered wholesale cookies company producing delicious cookies and Bickies.
Posted in About Cookies | Comments Off on Anzac Biscuits – Taking Forward Legacy of the Great Australian Tradition
Tags: anzac, anzac biscuits, anzac cookies, anzacs, australian biscuits, biscuit distributor, bulk biscuits, bulk biscuits suppliers, bush cookies, cafe biscuits wholesale, opera foods, wholesale biscuit suppliers, wholesale biscuits, wholesale cookies

Posted by: admin | August 30, 2019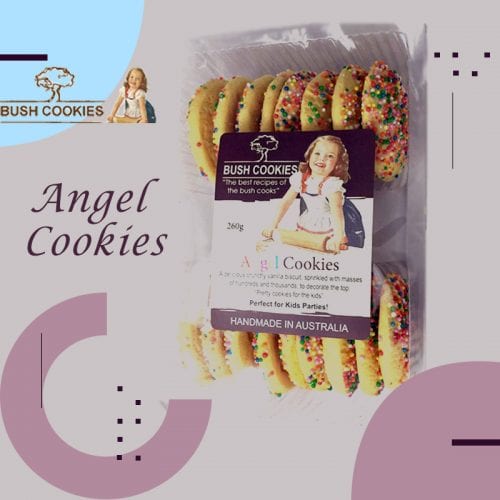 Bush Cookies are a family-owned business of Cookies and Bickies.  We have a large range of packaged biscuits which are perfect as snacks for little kids. These colorful cookies can be used to engage your kids while you are chilling down with your friends and family at events and functions. Cookies are the perfect snack food for a high tea party. Our cookies and Bickies have a good shell life which will make the customers return for more; these tasty wholesale cookies will surely give you the melting moments which you have been craving for from a long time.
Our Angel cookies are a favorite among Kids party food because of its high quality, we stand out among top quality brands because of our unique mix of crunchiness and taste. These cookies are completely filled with vanilla and hundreds and thousands of nonpareil sprinkles are sprinkled to make it look more attractive.
Bush Cookies offers a good range of "High Tea" cookies and wholesale biscuits. We supply consumers online great wholesale cookies and for retailers to avail great discounts book from our parent website Opera Foods.
Posted in About Cookies | Comments Off on Angel Cookies a favorite among Kids
Tags: Angel Biscuits, Angel Cookies, australian biscuits, biscuit distributor, bulk biscuits, bulk biscuits suppliers, bush cookies, cookie supplies, cookie wholesale distributors, opera foods, sprinkes, Sprinkle Cookies, wholesale biscuit suppliers, wholesale biscuits, wholesale cookies

Posted by: admin | August 25, 2019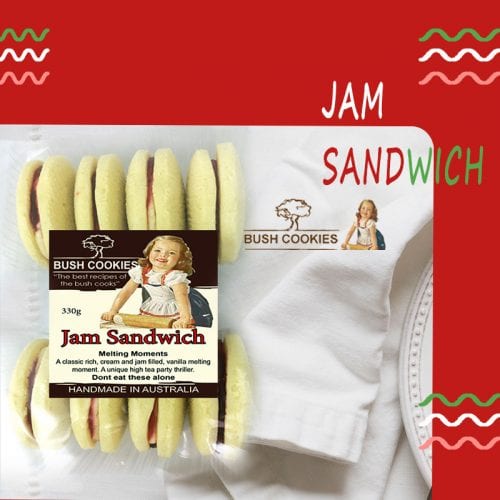 Jam Sandwich from Bush Cookies is a  classic rich melting moment style cookie which is filled with a vanilla cream and has jam sandwiched between wafers.
Bush Cookies are a wholesale cookies distributor in Australia. Over the years we have specialized in providing a variety of cookies which are made in HACCP certified conditions from the recipes of Australia's old bush cooks.
Bush Cookies have a wide range of cookies from where you can select for your morning tea ideas to high-end tea parties. All our cookies are special handmade gourmet cookies which melt in your mouth hence giving a magic melting moment which you have dreamed or heard about.
Bush Cookies is a favorite among quality range of bickies and cookies brand in Australia. We are a wholesale supplier of cookies and snacks in Australia. We deliver unique packaged biscuits to independent supermarkets and greengrocers. We also sell online direct to consumers and overnight around the suburbs of Melbourne, Sydney, and Brisbane.
To order bulk biscuits at an affordable price and gather loyalty points visit our parent company Opera Foods.
Posted in About Cookies | Comments Off on Jam Sandwich The Best Recipe Of Bush Cooks
Tags: australian biscuits, biscuit distributor, bulk biscuits, bulk biscuits suppliers, bush cookies, cafe biscuits wholesale, cookie supplies, cookie wholesale distributors, jam sandwich, melting moments, opera foods, wholesale biscuit suppliers, wholesale biscuits, wholesale cookies