Why we love handmade Australian biscuits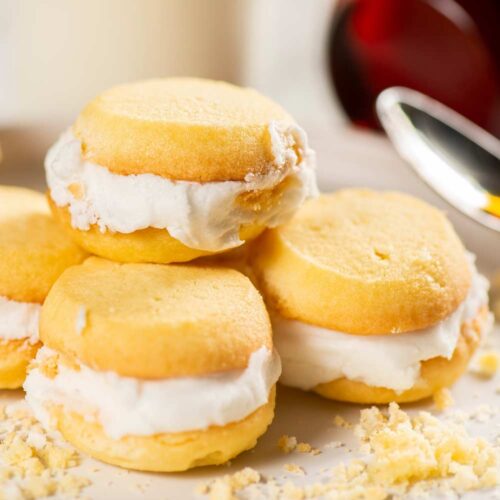 Call them what you like, biscuits and cookies have a special place in the heart of every Australian.
Biscuits are a very specific kind of comfort food, and nothing quite says home like a bickie and a cuppa. Visit a cafe and you may be more likely to indulge in a slice of something than an actual biscuit. Chances are you are more likely to order a coffee than the biscuits natural partner; a good old cup of tea.
A biscuit offers familiarity. A friendly face and a listening ear. Studies have shown that when it comes to biscuits we know what we like and like what we know. Supermarket aisles and bakery baskets are not the spawning ground of new invention, but rather a comforting assurance that some things never change.
Are cookies and biscuits the same thing?
Although (outside of the US) the terms cookie and biscuit can be used interchangeably, most of us are referring to two different things. The distinction is however pretty hard to nail down and is often more a part of our own personal lexicon than anything else. Anzac biscuits (for example) are most definitely a biscuit (even though they look quite cookie-like) whilst a choc chip cookie is immediately recognisable as such and highly unlikely to be mistaken for a biscuit.
Certain things defy categorisation at all. Melting moments couldn't be anything other than a melting moment (unless its a yo-yo) and who doesn't love the occasional jam drop?
The truth is that biscuits and cookies share more similarities than differences. So let's just call them bickies and be done with it!
Where do biscuits come from?
Practically everybody associates biscuits with the British, especially alongside or dunked into a cup of tea. Ginger nuts are a particularly British invention, and shortbread has been made in Scotland since the 16th Century. But did the British actually invent biscuits?
Biscuits began in Ancient Rome as 'panis bicoctus' (bread twice-baked) which was essentially just a method of storing slices of dried bread. Arabs were the first to add sugar, as well as fruit and nuts. Sweet biscuits gained in scope and popularity as sugar became more widely available and affordable for the masses.
DID YOU KNOW that sweet biscuits were made to be dunked? Amongst the 17th Century aristocracy hard sponge fingers were dunked in sweet wine.
1846 saw the first industrial biscuit factory in Britain, which became the largest in the world. In Australia, Arnott's first factory was not far behind.
But tea and biscuits were not officially a thing until WWII. Britain was already a nation of tea drinkers yet as sugar became rationed tea became less and less sweet. The story goes that the biscuit manufacturers stepped in and began supplying biscuits so that people could get their sugar fix on the side.
Australian Biscuits
Australia is one of the great biscuit eating nations of the world. We do love our bickies! Yet not all Aussie favourites come out of packet, and many are much loved homemade classics. So what are these quintessentially Australian biscuits that have been passed down through the generations?
Anzac biscuits
Anzac biscuits are Australia's most loved and also historically important biscuit. A fairly robust mix of oats, flour, sugar, coconut and butter they were sent out to soldiers during the First World War. A source of energy and nutrition, with a long shelf life, Anzac biscuits (as they came to be known) were also an important source of comfort and connection to home. You could say that Anzac biscuits really do encompass the true spirit of biscuits.
Our Anzac biscuits are handmade in Australia
Chocolate Chip Cookies
Invented in America in the 1930's, chocolate chip cookies are a firm favourite in Australia and the rest of the world. Hear the word 'cookie' and this is most likely what springs to mind. Choc chip cookies seem to be the one type of biscuit that we don't associate with a cup of tea. Although, as adults, we love them as much as children do the association is a nostalgic one of milk and cookies.
Shortbread Biscuits
Shortbread belies its absolute simplicity. Buttery, and with a shortness so short it simply melts in the mouth, shortbread is made of nothing more than flour, sugar and butter.
Jam Drop Biscuits
Jam drop biscuits are shortbread rounds with a 'drop' of jam baked on the top. A perennial childhood favourite, these are known elsewhere as thumbprint cookies owing to their method of preparation. A indent is made in the raw dough, into which goes a drop of jam before baking.
Ginger Biscuits
Ginger biscuits, also known as ginger snaps or ginger nuts, are all about the crunch. Sweet, spicy, and hard yet not dense, ginger biscuits are the ideal dunking biscuit.
Macadamia Biscuits
There is nothing quite as quintessentially Australian as the macadamia, so it makes sense that they find their way into baking at every opportunity. The subtle taste and oddly crunchy yet creamy texture of these Australian native nuts lends itself really well to biscuits and cookies. Wild macadamia nuts grow in Queensland and New South Wales, and it is said that 70% of the world's macadamias can be traced back to a single tree in Queensland. Forget Tim Tams; if you want a truly Australian biscuit then go for one with macadamias.
Melting Moments
Melting moments are melt-in-the-mouth butter cookies, often sandwiched together with a jam or cream filling. Originally from New Zealand, these super crumbly cookies are made with just four ingredients; butter, flour, icing sugar and cornflour. A derivative of shortbread, the crumb is somewhat softer and melting is actually the only way to describe it. Melting moments were a 1950s staple and feature heavily in memories of childhood baking.
Theoretically, the Australian version of melting moments is made with custard powder not cornflour and is therefore actually a yo-yo. These are not to be confused with the British version of melting moments (also a childhood baking favourite) that involves dessicated coconut and glace cherries.
Who doesn't love a jammy melting moment?
Cream Filled Biscuits
Cream filled biscuits are the opposite of tea dunkers. Sweeter, and creamier, this is where comfort begins to cross over in decadence. Less solitary rainy day cuppa and more celebratory put them on a plate because we have company kinda vibe. Either that or you really want something sweet. Now.
The first commercial cream biscuits produced appeared in Britain and the US around 1908. The British custard cream was a creamy vanilla shortbread biscuit, whilst the chocolatey Hydrox in America was seemingly the forerunner of the Oreo. Over a hundred years on and both nations remain loyal to their roots.
Check out our range of delicious cream filled biscuits
Passionfruit Biscuits
Passionfruit is another particularly popular Australian flavour. Although native to Brazil, these distinctive fruits are grown all over Australia and find their way into many bakes and desserts. Passionfruit creams are a bit of an Aussie institution and favourite of the home baker.
Kids Biscuits
Our lifetime love affair with biscuits most likely began when we were kids. Snack time, play time, break time, after school time. All fuelled by biscuits. Back when sugar was a source of fuel and a little bit of what you fancy definitely did you good.
Biscuits (despite the sugar police) remain a massive part of childhood, and quite thankfully so. Not just for parties, a well timed biscuit can stop tears in their tracks whether your child is a toddler or a teenager. And who doesn't look forward to cookies and milk after school?
And yes, there are parties. Which require colour, and sugar…
Looking for biscuits for a kids party?
Angel Cookies
Our angel cookies are crisp vanilla cookies topped with rainbow coloured sprinkles, made in a slightly smaller size for little hands.
Freckle Biscuits
Also known as smarty cookies or M&M cookies, we like to call these colourful cookies freckle cookies. Loved by kids the world over, these are a non-negotiable kids party treat.
Gluten-free Biscuits
It isn't easy to make baked goods and biscuits that are gluten free that taste (or feel) as good as those made with wheat flour. But the demand for gluten free goods continues to rise so bakers and manufacturers are forced to come up with ways to mimic the magic properties of gluten. The trick with shopping for gluten free biscuits is to find something that is just as good or better than their wheat based counterparts. After all, the whole point is that biscuits and cookies are a joy to eat so why put up with something that doesn't quite get there?
Why not give our certified gluten-free cookies a go?
Dairy-free Biscuits
Many biscuits are made without butter and favour margarine instead. However this does not always guarantee that the biscuits will be dairy free as many brands of margarine actually contain milk solids. If the biscuits do contain dairy it may not show up in the ingredients list, but will always be noted as milk allergens.
Egg-free Biscuits
A lot of biscuits, especially gourmet or handmade biscuits, may contain egg in the recipe. Again, these will be clearly listed in the ingredients and marked as allergens. Our range has a number of egg-free biscuits, including Anzac biscuits which of course traditionally contain no egg.
Our butter shortbread cookies are made without egg
These handmade melting moments are also made without egg
At Opera Foods we supply biscuits wholesale direct to the public. Packaged for your convenience, yet handmade right here in Australia.
---
This article was reproduced on this site with permission from operafoods.com.au the "Australian Biscuit Manufacturers".
See original article:- Why we love handmade Australian biscuits