Archives
now browsing by author
Posted by: Anna | November 21, 2022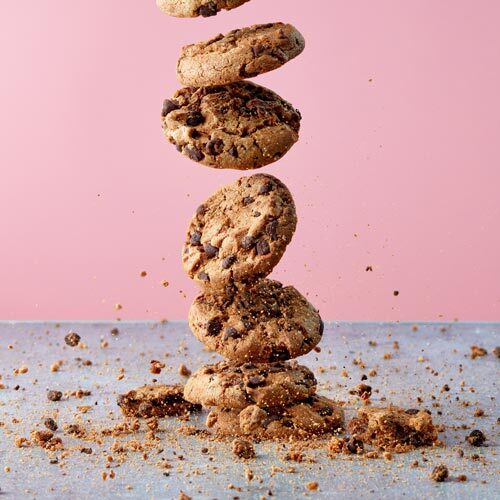 We all know that biscuits are pretty special just as they are, but how do you take your biscuit game further? Here are 10 great ideas for making treats with biscuits. It doesn't matter if they are leftover, broken, or bought for purpose; just that they are easy to make and delicious to eat.
Chocolate Biscuit Cake
An Aussie classic of chocolate cookies layered with chantilly cream. Left in the fridge overnight to settle, the biscuits become soft but not soggy. This one is a total no brainer.
1 pack triple chocolate chip cookies
2 cups whipping cream
2 tbsp icing sugar
1 tsp vanilla paste
Chopped chocolate to garnish
Whip the cream softly with the vanilla and icing sugar
Spread about 1 tbsp of the whipped cream on each biscuit and layer in stacks of 4 to form a log shape.
Spread the rest of the whipped cream over the top and sides.
Garnish with chopped chocolate and put in the fridge overnight.
Serve in slices.
Ice Cream Cookie Sandwich
What could be better than a scoop of your favourite ice cream sandwiched between two biscuits. It might be a melty moreish mess, but isn't that the point?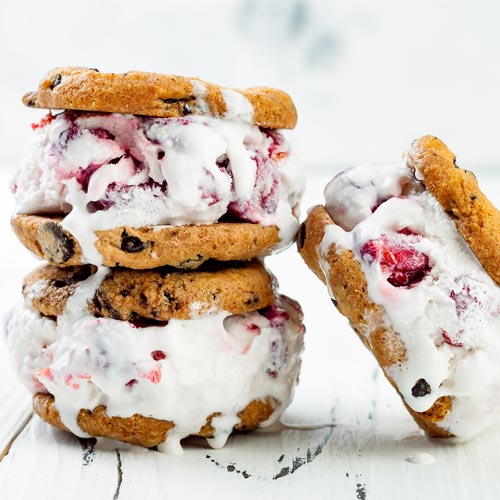 Take one pack of your favourite Bush Cookies and a tub of ice cream. Take the ice cream from the freezer to soften just a little. Sandwich one scoop between two biscuits and eat!
 Quick Cookies and Cream Ice Cream
Another super simple idea that is a great way to use up leftover biscuits and save a little money at the same time. You can make as much or as little as you like so it is also a great way to use up all those remaining ice cream tubs at the bottom of the freezer.
Ice cream in one flavour or more.
Leftover biscuits broken into chunks. 
Allow the ice cream to soften just enough so you can fold through the chunks of biscuit.
Place back in the freezer to firm back up a little.
Ginger and Macadamia Biscuit Butter
We are not sure when cookie butter became an actual thing, but we are not sure how we ever lived without it. We have used our ginger and macadamia biscuits but you can experiment with any biscuit you like. Just be aware that you may need to adjust the water quantities accordingly.
1 pack of Bush Cookies ginger and macadamia biscuits 
1 cup boiling water
1/4 cup butter
1/4 cup condensed milk
Blitz the biscuits in a food processor until you have a fine crumb.
Pulse in the boiling water and mix to a smooth paste.
Blend in the butter and the condensed milk until smooth.
Scrape into a glass jar and keep in the fridge for up to two weeks.
Deep Fried Ice Cream
Deep fried ice cream delivers on all levels. That classic contrast of hot against cold is doubly delicious when paired with the joy that is crispy plus creamy. We rest our case.
Serves 4
500ml ice cream
200g biscuits
2 eggs
Scoop the ice cream into 4 balls. Put them on a tray, on greaseproof paper, and refreeze until solid.
Beat the eggs.
Blitz the biscuits to a crumb.
Heat oil in a deep fryer to 190C.
Roll the ice cream balls in the beaten egg.
Roll them in the crumb.
Drop into the hot oil and fry for about 20 seconds or until they turn a lovely golden brown.
Drain on kitchen paper and serve hot.
Biscuit Fridge Cake
A simple staple that is way more than the sum of its parts. You can add in any bits that you like, and switch it up according to the season. Or if you want to get really fancy, roll it in a log and call it chocolate salami.
1 can condensed milk
3/4 cup butter
1 cup chocolate chunks
1/4 cup glace cherry halves
1/4 cup hazelnuts, roughlychopped
1/4 cup raisins
1 pack biscuits
Line a tin or any shallow container with greaseproof paper
Break the biscuits into a large bowl and stir through the cherries, hazelnuts and raisins.
In a small pan over a low heat, melt the butter, condensed milk, and chocolate together.
Mix this into the biscuits.
Press into the tin and chill in the fridge for several hours or until set.
Biscuit Base
Possibly the most versatile thing ever, a good biscuit base will see you through the trickiest of dessert disasters. You can use as a cheesecake base, or its many variations. Banoffee pie, anyone? Or you can miss out the middle man and pile loosely underneath, or on top, of any fruity/creamy/chocolatey concoction. You could even sprinkle it on top of the cream on your hot chocolate – in this instance you could skip the butter and go straight to crumbled biscuits instead. Oh yeah!
This will line the base of a 23cm round tin. If you want to press the mixture up the sides, make twice the recipe. 
250g biscuits
125g unsalted butter, melted
Blitz the biscuits in a food processor to a fine crumb. Or, put them in a plastic bag and bash with a rolling pin. Whichever you choose, you want something that looks like damp sand.
Tip the crumb into a bowl. Even if you used a food processor.
Stir the butter into the crumb using a wooden spoon or spatula. You want something that just sticks together.
Press the mixture gently into the tin and set in the fridge for half an hour before filling.
You can pile the crumb loosely onto a baking tray and set without pressing to form a crumble.
Biscuit Truffles
Super simple chocolaty truffles are elevated in taste and texture by the addition of biscuits. You can use just biscuit crumb, or go for the double whammy and stir in some chunky biscuit bits too. The contrast of texture is enough to cause excitement but why not try using 2 different kinds of biscuits too? Oh my!
350g biscuits
100g broken biscuits, in small pieces
40g cocoa
395g tin of condensed milk
Blitz the biscuits to a fine crumb in a food processor and set aside 100g.
Mix together the rest of the biscuits, cocoa and condensed milk.
Stir in your chopped biscuits if using.
Divide the mixture using two teaspoons and roll into balls.
Roll the balls, whilst still sticky, in the remaining crumb.
Set aside to harden a little before eating.
For extra texture, roll the truffles in tempered chocolate before rolling in the crumb.
Lime, Coconut & Macadamia Biscuit Bars
When it comes to making quick (no)bakes with leftover biscuits, condensed milk is your store cupboard saviour. These lime biscuit bars are a super easy fridge cake, and although you could add frosting to the top, all they really need is a dusting of icing sugar.
1 pack of Bush Cookies macadamia delight biscuits
1/2 cup desiccated coconut
125g butter
1/2 can condensed milk
2 limes, juice and zest
icing sugar, to dust
Blitz the biscuits to a fine crumb and stir in the coconut with the lime zest.
Melt the butter, lime juice and condensed milk together.
Stir the wet ingredients into the dry.
Press into a lined tin and set in the fridge until firm.
Dust with icing sugar and slice to serve.
Ginger Biscuit Tiramisu
Tiramisu is a dinner party favourite. One of those dishes that never fails to wow despite its simplicity. But have you have thought of making it with a different biscuit? We tried it with our ginger and date biscuits for a flavour/texture update and it worked really well. It takes on an almost sticky toffee pudding quality.
1 pack Bush Cookies ginger and date biscuits
400ml whipping cream
250g mascarpone
75ml marsala
1 tsp lemon zest
2 tbsp icing sugar
300 ml espresso or strong black coffee
1 tbsp cocoa for dusting
Lay the biscuits in a shallow dish and pour over the coffee.
Gently whip the cream together with the mascarpone, lemon zest, marsala and icing sugar.
Spread the topping over the biscuit layer.
Dust with the cocoa powder.
Leave in the fridge for a few hours before serving.
Ready to try out some of these great biscuit ideas? Check out our full range of Australian handmade biscuits to buy online.