Cookie Recipes
now browsing by category
Like to bake some cookies for your little monsters? We'll show you how with some great Cookie recipes.
Hey, were not going to publish our secret recipes but there are plenty of other good bickkie recipies around.
Posted by: Anna | March 22, 2021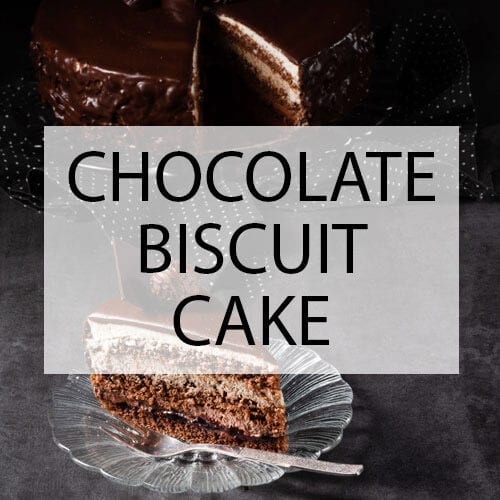 Chocolate biscuit cake, depending on who you ask, ranges from broken up biscuits in a sort of solid ganache (aka fridge cake) to putting biscuit crumb in actual cake batter.
Then there's a sort of layer cake made from plain biscuits, maybe soaked in a little alcohol, and sandwiched with sweetened cream. As if that weren't enough, there is the Australian classic – the chocolate ripple biscuit cake.
All of them have a lovely 1950s housewife feel to them. A time when food out of the packets was the new frontier and baking ingenuity knew no bounds.
How to make cake using biscuits
What they all have in common is biscuits. Yay. And chocolate. Unless you feel particularly inventive, in which case you could go beyond chocolate and try different types of biscuits and frostings. This will only really work with the ripple biscuit/layer cake style scenario. Fridge cake wouldn't be fridge cake without chocolate. It wouldn't stick together for a start. You could try white chocolate, that could be good.
And they involve no cooking, unless you count a bit of melting or whipping. If that is too much of a stretch for you, then you can just eat biscuits straight from the packet and be done with it…
Broken biscuit cake
Also known as biscuit fridge cake, or tiffin, this is that deliciously moreish wedge of chocolate crammed with bits of biscuit. It manages to be dense and toothsome, yet soft, all at the same time. sometimes it has other things inside too, such as cherries.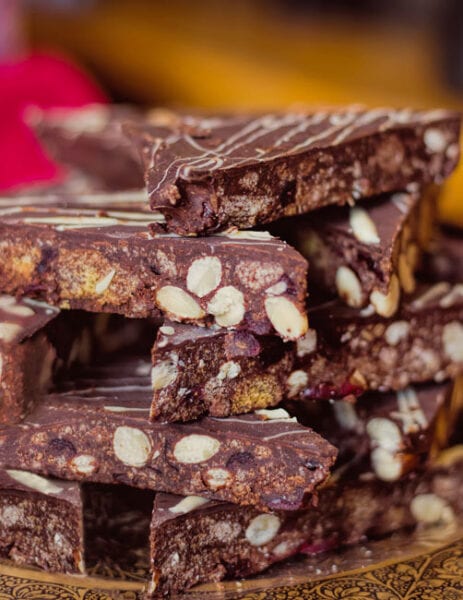 Basic recipe for chocolate fridge cake using condensed milk
1 can condensed milk
3/4 cup butter
1 cup chocolate chunks
1 pack plain biscuits
Line a tin or any shallow container with greaseproof paper
Break the biscuits into a large bowl
In a small pan over a low heat, melt the butter, condensed milk, and chocolate together.
Mix this into the biscuits.
Press into the tin and chill in the fridge for several hours or until set.
Chocolate ripple biscuit cake
Chocolate ripple cake is the stuff of childhood fantasy. It centered originally around the particular texture (or maybe widespread availability) of the chocolate ripple biscuit. If you feel brave enough to break free of tradition then you could try a triple choc chip cookie. You could dispense with the chocolate altogether, and experiment with anzac biscuits or maybe a coffee cream? Just saying.
If you do feel the need to behave in such an outrageous manner there is only one rule. You have to keep it kitchy cool.
This biscuit cake is made by whipping cream, with a touch of icing sugar and a dash of vanilla, and sandwiching the biscuits together. Do them in groups of four, and lie the stacks on a plate so that the biscuits are horizontal. So that you have the cross section of stripes when you cut into it. Lay three or four stacks in a length so that you have a log shape. Now cover the whole lot with more softly whipped cream. Decorate with broken chocolate biscuits, lollies, or whatever else you fancy.
You could add Baileys or another alcohol to the cream. You do need to be careful when adding liquid/alcohol/vanilla to cream as it may seize. Or just pour a few shots of alcohol over the biscuit stacks.
You could use frosting instead of cream. Or the chocolate mix from the tiffin above. A chocolate glaze is a nice addition. To make a chocolate glaze simply stir a teaspoon of vegetable oil into melted chocolate and pour it on.
Cream cheese and orange biscuit cake
Here's a nice cream cheese frosting with a bit of orange zest and a little honey. Maybe a touch of cinnamon and these ginger and date biscuits?
Mix 600g cream cheese with 200g soft unsalted butter and 100g of icing sugar. Stir in 2 tbsp honey and the zest of 1 or 2 oranges.
Italian biscuit cake 
In Italy, of course, they make their fridge cake with style. Not only will it include things like pistachios and candied peel, but is rolled into a sausage shape and tied up with string like an actual salami. It is even called chocolate salami.
Rocky road biscuit cake
Good old rocky road. Not to be messed with, it is simply fridge cake but with mini marshmallows and raisins. Milk chocolate please.
How to store chocolate biscuit cake
Whatever road of biscuit cake you choose to follow, it belongs in the fridge. Where it will live quite happily for 3 days if it has fresh cream or over a week if it does not.
How creative can you get with a packet of biscuits? What do you think is the best biscuit for a biscuit cake? Don't forget to take advantage of wholesale prices at our bulk food store.
Posted by: Anna | February 26, 2021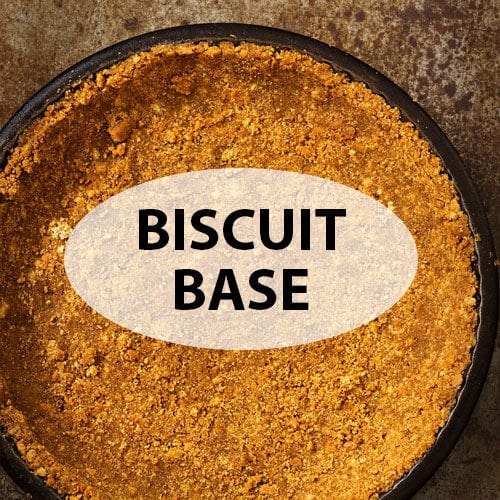 The perfect buttery biscuit crumb base is an essential part of a good cheesecake. Also part of many other desserts, it is a great shortcut to have up your sleeve. But you don't need to stick with boring biscuits. Any biscuit can be used to make a great cheesecake base.
How to make a biscuit base
A classic biscuit crumb base is made from crushed biscuits mixed with melted butter and set in the fridge. It can form just the base of your cheesecake or dessert, or be pressed up the sides to form a crust.
You can get really creative with your base, and not just in terms of the biscuits used. Try piling the butter/crumb mix into the base of glasses and topping with chocolate mousse, or even just custard mixed with lemon curd.
Classic dishes using a crumb base, other than cheesecake, include banoffee pie, key lime pie, and peanut butter pie. You can make mini versions by lining bun tins with the biscuit crumb mixture. Not so classic ways to use a biscuit crumb base include lemon meringue pie with a biscuit base instead of pastry, or a lemon tart with biscuit base, or even a chocolate tart. Any dessert you can think of that uses a blind baked pastry base is a prime candidate for a buttery biscuit base.
What are the best biscuits for a cheesecake base?
As long as they are crisp biscuits not soft chewy type cookies, you can use any biscuits for your base. A food processor helps with chocolate coated or cream filled biscuits in order to form a nice even crumb. A cream filled biscuit will create a softer sweeter crumb but is well worth experimenting with. Some biscuits will absorb less butter than others, so you may need to play about with proportions.
You could try…
Or even a passion fruit cream.
Make a gluten free biscuit crumb base with our gluten free chocolate chip cookies.
Biscuit base recipe
This will line the base of a 23cm round tin. If you want to press the mixture up the sides, make twice the recipe. 
250g biscuits
125g unsalted butter, melted
Blitz the biscuits in a food processor to a fine crumb. Or, put them in a plastic bag and bash with a rolling pin. Whichever you choose, you want something that looks like damp sand.
Tip the crumb into a bowl. Even if you used a food processor.
Stir the butter into the crumb using a wooden spoon or spatula. You want something that just sticks together.
Press the mixture gently into the tin and set in the fridge for half an hour before filling.
You can pile the crumb loosely onto a baking tray and set without pressing to form a crumble.
Can I make a vegan biscuit base?
You can make a vegan biscuit base as long as your biscuits are vegan and contain no animal products. Just switch out the butter for coconut oil or a plant-based butter. Choose a hard block butter, not a soft spreadable one.
Why is my cheesecake biscuit base too crumbly?
If your biscuit base is too crumbly, you may not have created a fine even crumb, or you may need more butter.
You may not have pressed hard enough when lining the tin.
However a base that is crumbly is infinitely preferable to one that is too hard.
If your biscuity base is too hard then you may have over mixed, which can often result if you blend the butter and the crumb together in a food processor. Too much butter can lead to a mixture that sets too hard – if your crumb mixture looks wet or greasy then you have too much butter. You may also just have pressed too hard when lining the tin.
Check out our range of all Australian cookies or buy your biscuits in bulk online.
Posted by: Anna | January 31, 2021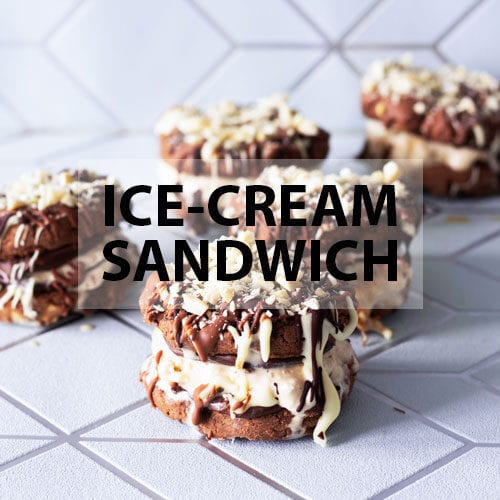 Try this easy ice cream sandwich recipe using triple chocolate cookies and salted caramel ice cream.
As well as the cookies and the ice cream you will need milk, dark and white chocolate, and chopped hazelnuts. Or use all purpose 'nibs' usually made from almonds – you will find them in the baking aisle. You will also need chocolate hazelnut spread.
You can make the cookie ice cream sandwiches up in advance and freeze them in batches.
Because biscuits…and ice cream.
An ice cream sandwich is made from ice cream sandwiched between biscuits, cookies, or wafers. The perfect decadent dessert, they are super easy to make using store bought cookies and ice cream. A drizzle of chocolate and a scatter of nuts gives you maximum impact for minimal effort. We add chocolate hazelnut spread to our recipe to make them extra special and super chocolatey.
Hazelnut triple chocolate cookie ice cream sandwich recipe
You will need –
1 pack triple chocolate cookies

4 tbsp hazelnut chocolate spread

250ml salted caramel ice cream

50g dark chocolate, melted

50g milk chocolate, melted

50g white chocolate, melted

2 tbsp chopped hazelnuts
Let the ice cream soften a little.
Spread the cookies with hazelnut chocolate spread.
Top half of the cookies with ice cream.
Top with the other half to make sandwiches.
Place in the freezer until the ice cream has firmed up a little.
Drizzle with melted chocolate.
Scatter with nuts.
Transfer back to the freezer and serve as required
To make your ice cream sandwiches soft enough to eat, leave them at room temperature for about 5 minutes before serving. To make it easier to eat, wrap them in a folded square of greaseproof paper.
Check out our range of premium Australian cookies, and don't forget you can bulk buy online at our wholesale store.
Posted in Cookie Recipes | Comments Off on Hazelnut triple chocolate cookie ice cream sandwich recipe
Posted by: admin | July 11, 2020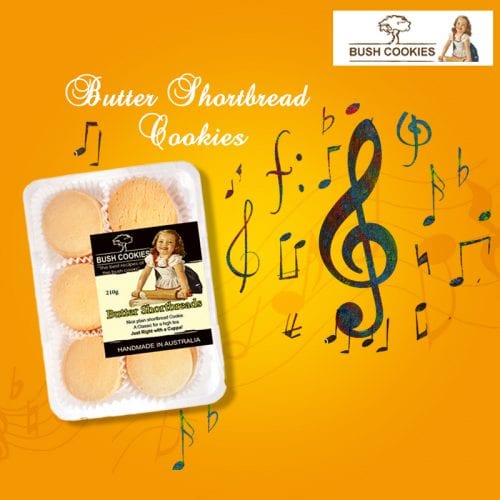 Bush Cookies supply a wide range of packaged cookies and snack foods Australia wide.. Butter shortbread cookies by Bush Cookies are traditional gourmet cookies that are ideal for morning and afternoon tea ideas. These wholesale cookies are perfect for the high tea party and any kind of social gatherings.
Shortbread is a crunchy traditional biscuit which was invented by a Scottish cook in 1736. They were named for their crumbly texture caused by their high fat content from the generous butter portions that give them their great flavor.
The basic recipe for these biscuits is traditionally one part white sugar, to two parts butter, & three parts wheat flour.
However many bakers add other ingredients like a pinch of salt and cornflour or rice flour to change the cookies texture. Some recipes alter the sugar ingredient using half icing sugar and half granulated Sugar.
A true shortbread biscuit contains no leavening agent like baking soda or baking powder used in other baked goods. Many shortbread biscuits are still called Scottish Shortbread as Scottish bakers export fancy tins of their brand of shortbread biscuits, as Christmas gifts to foreign countries all around the globe.
Traditional Shortbread biscuits are often stamped into a pattern before cooking as their stiff dough retains its shape during baking. Shortbread Biscuits are also cut into a variery of shapes to make them more interesting.
Butter shortbread cookies are delicious and nice to taste gourmet cookies.  Visit our site to know more details about the product. Book your favorite product and get online discounts from our online store. We deliver a huge bulk of cookies to most sectors of Australia.
Posted by: admin | June 12, 2019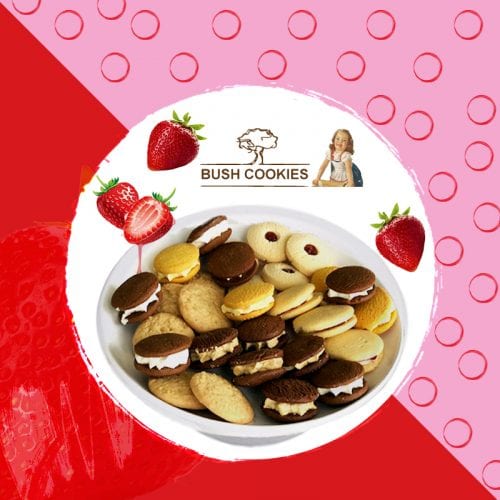 Cookies and Bickies are crunchie biscuits that people of all ages will love. Bush Cookies are gourmet wholesale cookies which are a great idea to start with your morning tea. All Bush Cookies brand cookies and bickies which are available in our online shop are hand made gourmet cookies.
Our Freckle Bickies and Angel Cookies are the perfect snacks for little kids because of its pretty colorful in which they are decorated with choc button freckles etc. You will also find different cream filled  flavors and varieties with us.  Our tasty vanilla Angel cookies are sprinkled with hundreds of nonpareil sprinkles. Our Passion fruit cookies are filled with crunchy cream of real passion fruit; it is a nice cream biscuit to indulge in a tea party.
Why not order some Bush Cookies delights for your next high tea party?
Bush Cookies is a registered brand of Opera Foods, cookie wholesale distributors; we deliver healthy food products to cafes and retail shops in and around the suburbs of Brisbane, Sydney and Melbourne.
Posted in About Cookies, Cookie Recipes | Comments Off on Bush Cookies the Online Shop for Cookie Lovers
Tags: australian biscuits, biscuit distributor, bulk biscuits, bulk biscuits suppliers, cafe biscuits wholesale, cookie supplies, cookie wholesale distributors, cookies wholesale prices, wholesale biscuit suppliers, wholesale biscuits, wholesale cookies

Posted by: admin | June 2, 2019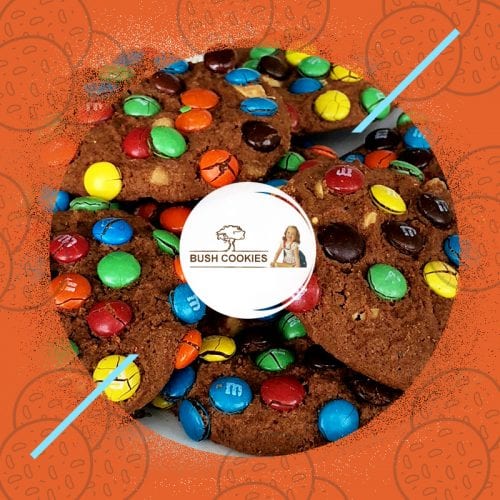 Chocolate Freckle Bickies from the Bush Cookies are wonderful cookies enjoyed by the kids. The Crunchy chocolate cookies are made with tasty chocolate chips and lots of M&M are decorated on the top.  The most important feature of the Bush Cookies is that it holds the shape perfectly even after being baked in the oven. There are basically many combinations for making it at home, but the recipe which I have mentioned below is one of the easiest recipes for Chocolate Freckles.
The Ingredients required are 190gm of Flour, 25 gm of processed cocoa, half teaspoon of baking soda, one teaspoon of baking powder, 110 gm of butter, Dark brown sugar and granulated sugar, one egg, a bit of vanilla extract, 150 gm of dark chocolate, 1/3 cup of 100s and 1000s, and salt to taste.
The recipe is so easy to be made that you can include your kids too in the process, and they will find it interesting and have fun in decorating and eating the bush cookies.
Firstly you need to heat the oven up to 170 Celsius and then line up 5 trays with baking paper. After that, you need to mix the flour, cocoa, baking soda, baking powder, and salt. Cream together the butter and sugars until it is fluffy. Then add the egg and vanilla extract, put the mixer on low and add the dry ingredients in 3 lots. Make the size balls of the dough and place them on the baking paper, keep them wide apart so that they don't stick with each other. Bake them roughly about 20 minutes and once the edges look crispy take them out from the oven.
Melt the chocolate and dip the cooled cookies into the chocolate and ask your children to help you out in decorating the top with M&Ms. Enjoy the Delicious Chocolate Freckles or café biscuits with your family and kids.
You can also order ready made Chocolate Freckle Bickies of Bush Cookies brand from our wholesale biscuit suppliers Opera Foods.
Posted in Cookie Recipes | Comments Off on Easiest Way to Make Your Favourite Chocolate Freckles at Home
Tags: australian biscuits, biscuit distributor, bulk biscuits, bulk biscuits suppliers, cafe biscuits wholesale, cookie supplies, cookie wholesale distributors, cookies wholesale prices, wholesale biscuit suppliers, wholesale biscuits, wholesale cookies

Posted by: admin | February 25, 2018
Jam Drops are a great favorite being basically popular shortbread cookies that has been made pretty and sweet and tasty with a dob of jam. Its a quick and easy  to bake cookie that takes about 15 minutes to prepare and 15 minutes to bake, so they are ready in about half an hour. Here is a favorite recipe from a seasoned bush cook. Or you can buy a similar product online from Bush Cookies.
Shortbread Cookies – Ingredients
225g butter, softened
100g caster sugar
1 teaspoons vanilla extract
250g plain flour
Preparation:
Preheat oven to 180 deg C.
Beat the butter and the sugar together until smooth creamy and fluffy. Stir in vanilla then add flour and mix well. Stir until you get a smooth paste.
Roll out on to a work surface and gently roll until the paste is about 1cm thick.
Then cut out your preferred shapes with a biscuit cutter. Place them on a baking tray with non-stick baking paper
For the jam drops use a finger dipped in flour or object to make an indentation in the centre of each of the shortbread cookies. Spoon 1/2 teaspoon of jam into the centre of each biscuit.
Bake for 12 to 15 minutes, or until pale golden-brown. Set aside to cool on a wire rack.
Recommendation: Don't talk too much at the table or they will all be quickly gone.
Order shortbread cookies now online from our parent company  wholesale food Suppliers Sydney Melbourne & Brisbane Opera Foods. (Register and log-in to see wholesale prices)
#shortbreadcookies #operafoods #bushcookies #cookierecipes
Posted by: admin | August 24, 2015
What is the difference between Freckle Bickies, Smarty Cookies or M & M Cookies we get asked. Well they are pretty much the same thing.
Chocolate Smarties are different brand of a similar candy coated chocolate buttons product to M & Ms. Bush Cookies use colorful choc buttons in our Freckle Bickies as a variation to Chocolate Chips. Below is a basic recipe for baking either Chocolate chip Cookies,  Smarty Cookies , M & M Cookies or as Bush Cookies call them Freckle Bickies.
Ingredients.
1/2 cup butter
3/4 cup brown sugar
1  egg
1 teaspoon vanilla extract
1 cup flour
1/2 teaspoon baking soda
1 pinch salt (optional)
1 cup milk chocolate chips
1 cup smarties (or 1 cup M&M's or just use 2 cups milk chocolate chips)
Preheat your oven to 320 degrees Fahrenheit
Combine in a your bowl: Flour, baking soda and salt
Then beat butter and sugar together in a mixer.
When well creamed (when you can see no yellow peices) mix in the vanilla and the egg and beat them together.
Next you slowly add the dry ingredients and when well combined mix in the chocolate chips (or Smarties or M & Ms)
Let the batch cool in the fridge for 40 minutes
Then make little balls of dough by hand and flatten on to a cookie sheet.
Bake them at 325 Fahrenheit for around 20 minutes depending on size of the cookie formations.
When baked take then from the oven and cool them on the cookie sheet for a few minutes then place them on your wire cooling rack.
When cooled find a quite place to gobble them by your self with a glass of milk or a cup of black tea.
NOTE: Food recipes produce different results for different people, as ingredient specifications vary in different regions, stoves are not all accurate in temperature settings or air movement, and people mix the ingredients in different ways. This in not one of the Bush Cookies secret recipes, but a popular recipe published on the internet by an unknown author.
You can of course achieve a perfect cookie every time by buying a Bush Cookies Freckle Bikkie or Bush Cookies Chock Chip cookie from a gourmet grocery store near you.
Freckle Bickie.
A super crunchy vanilla butter biscuit infused with white chocolate chips and loads of chocolate M & Ms. For the lad in our house or the lad in you.
Posted by: admin | April 10, 2015
Starfish Cookies are fun to make especially for the Kiddies Lets look at cookie recipes.
Ingredients
250g soft butter
1 cup caster sugar
1 egg
1 tsp vanilla essence
3 cups plain flour
Star-shaped biscuit cutters
Cookie Recipes, Directions:
1. Preheat oven to 180°C. Line 2 baking trays with baking paper.
2. In a large bowl, beat butter and sugar with electric beaters until smooth and creamy. Add egg and vanilla and beat until well combined. Stir in flour.
3. Roll out on a lightly floured surface until 5mm thick. Cut out star shapes with biscuit cutters.
4. Transfer to baking tray and bake for 15 minutes or until golden. Set aside to cool completely and decorate.
Posted by: admin | April 10, 2015
Try these yummy biscuits for your next morning or afternoon tea date.

Makes 15
Preparation time: 15 minutes
Cooking time: 20 minutes

Ingredients

3 tsp Flora pro-activ Original/Buttery*
1 tsp honey
1 cup flaked almonds*
1/4 cup traditional wholegrain oats*
1/2 cup caster sugar
1 egg white*
1/4 cup flaked almonds, extra*
1/3 cup plain, unsalted pistachio kernels*
1/2 – 1 tsp icing sugar, sifted for serving

*Products available with the Heart Foundation Tick. Remember all fresh fruit and vegetables automatically qualify for the Tick.

1. Place Flora pro-activ and honey in a microwave-safe bowl and melt on 20 per cent (low) power for 30-40 seconds.

2. Place the almonds, oats and sugar in the bowl of a food processor and process for 30 seconds or until fine. With the mixer running, pour in the egg white and honey mixture and process for 40 seconds or until the mixture forms a smooth paste. Transfer mixture to a small bowl, cover and refrigerate for 1 hour.

3. Preheat oven 150°C and line a baking tray with baking paper.

4. Roughly chop the extra almond flakes and pistachios and mix well to combine. Shape the mixture into small balls and slightly flatten. Roll in the combined almonds and pistachios, pressing the nuts firmly into the mixture. Place on the baking tray and bake for 20 minutes or until the biscuits are lightly browned. Cool on the baking tray before serving, and then sprinkle lightly with icing sugar.

5. Serve with a pot of tea.
Recipe provided courtesy of Flora pro-activ spread.