Get creative with your biscuit base for cheesecake and beyond…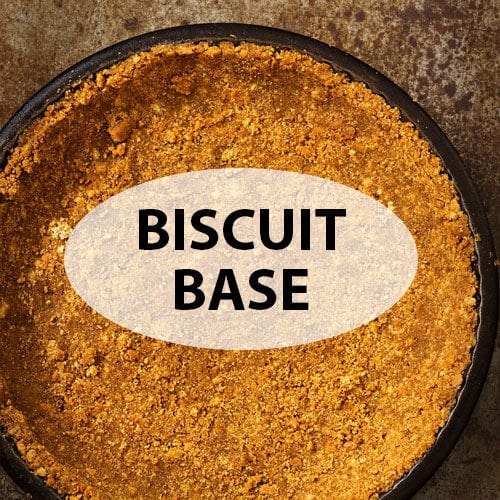 The perfect buttery biscuit crumb base is an essential part of a good cheesecake. Also part of many other desserts, it is a great shortcut to have up your sleeve. But you don't need to stick with boring biscuits. Any biscuit can be used to make a great cheesecake base.
How to make a biscuit base
A classic biscuit crumb base is made from crushed biscuits mixed with melted butter and set in the fridge. It can form just the base of your cheesecake or dessert, or be pressed up the sides to form a crust.
You can get really creative with your base, and not just in terms of the biscuits used. Try piling the butter/crumb mix into the base of glasses and topping with chocolate mousse, or even just custard mixed with lemon curd.
Classic dishes using a crumb base, other than cheesecake, include banoffee pie, key lime pie, and peanut butter pie. You can make mini versions by lining bun tins with the biscuit crumb mixture. Not so classic ways to use a biscuit crumb base include lemon meringue pie with a biscuit base instead of pastry, or a lemon tart with biscuit base, or even a chocolate tart. Any dessert you can think of that uses a blind baked pastry base is a prime candidate for a buttery biscuit base.
What are the best biscuits for a cheesecake base?
As long as they are crisp biscuits not soft chewy type cookies, you can use any biscuits for your base. A food processor helps with chocolate coated or cream filled biscuits in order to form a nice even crumb. A cream filled biscuit will create a softer sweeter crumb but is well worth experimenting with. Some biscuits will absorb less butter than others, so you may need to play about with proportions.
You could try…
Or even a passion fruit cream.
Make a gluten free biscuit crumb base with our gluten free chocolate chip cookies.
Biscuit base recipe
This will line the base of a 23cm round tin. If you want to press the mixture up the sides, make twice the recipe. 
250g biscuits
125g unsalted butter, melted
Blitz the biscuits in a food processor to a fine crumb. Or, put them in a plastic bag and bash with a rolling pin. Whichever you choose, you want something that looks like damp sand.
Tip the crumb into a bowl. Even if you used a food processor.
Stir the butter into the crumb using a wooden spoon or spatula. You want something that just sticks together.
Press the mixture gently into the tin and set in the fridge for half an hour before filling.
You can pile the crumb loosely onto a baking tray and set without pressing to form a crumble.
Can I make a vegan biscuit base?
You can make a vegan biscuit base as long as your biscuits are vegan and contain no animal products. Just switch out the butter for coconut oil or a plant-based butter. Choose a hard block butter, not a soft spreadable one.
Why is my cheesecake biscuit base too crumbly?
If your biscuit base is too crumbly, you may not have created a fine even crumb, or you may need more butter.
You may not have pressed hard enough when lining the tin.
However a base that is crumbly is infinitely preferable to one that is too hard.
If your biscuity base is too hard then you may have over mixed, which can often result if you blend the butter and the crumb together in a food processor. Too much butter can lead to a mixture that sets too hard – if your crumb mixture looks wet or greasy then you have too much butter. You may also just have pressed too hard when lining the tin.
Check out our range of all Australian cookies or buy your biscuits in bulk online.