Hazelnut triple chocolate cookie ice cream sandwich recipe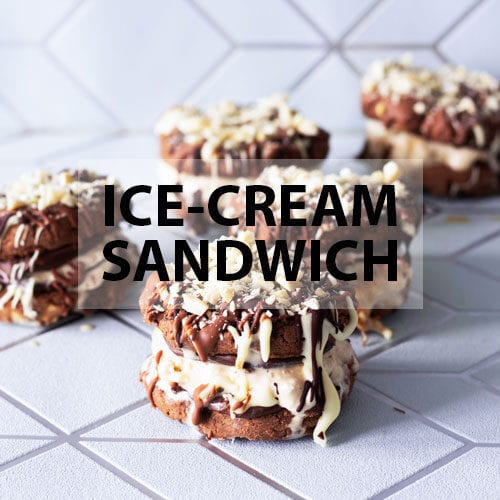 Try this easy ice cream sandwich recipe using triple chocolate cookies and salted caramel ice cream.
As well as the cookies and the ice cream you will need milk, dark and white chocolate, and chopped hazelnuts. Or use all purpose 'nibs' usually made from almonds – you will find them in the baking aisle. You will also need chocolate hazelnut spread.
You can make the cookie ice cream sandwiches up in advance and freeze them in batches.
Because biscuits…and ice cream.
An ice cream sandwich is made from ice cream sandwiched between biscuits, cookies, or wafers. The perfect decadent dessert, they are super easy to make using store bought cookies and ice cream. A drizzle of chocolate and a scatter of nuts gives you maximum impact for minimal effort. We add chocolate hazelnut spread to our recipe to make them extra special and super chocolatey.
Hazelnut triple chocolate cookie ice cream sandwich recipe
You will need –
1 pack triple chocolate cookies

4 tbsp hazelnut chocolate spread

250ml salted caramel ice cream

50g dark chocolate, melted

50g milk chocolate, melted

50g white chocolate, melted

2 tbsp chopped hazelnuts
Let the ice cream soften a little.
Spread the cookies with hazelnut chocolate spread.
Top half of the cookies with ice cream.
Top with the other half to make sandwiches.
Place in the freezer until the ice cream has firmed up a little.
Drizzle with melted chocolate.
Scatter with nuts.
Transfer back to the freezer and serve as required
To make your ice cream sandwiches soft enough to eat, leave them at room temperature for about 5 minutes before serving. To make it easier to eat, wrap them in a folded square of greaseproof paper.
Check out our range of premium Australian cookies, and don't forget you can bulk buy online at our wholesale store.