How to make biscuit truffles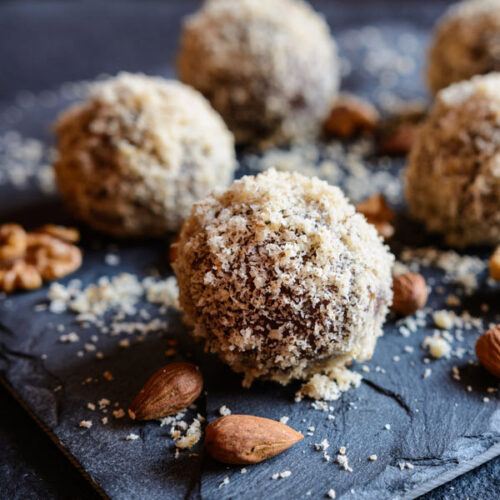 What is a chocolate truffle?
Truffles are a confection usually (but not always) made with chocolate. In the shape of a ball, roughly an inch wide, they have a solid yet soft centre and an outer coating. They are called truffles because when hand rolled they can resemble the other kind of truffle. The deeply-scented, highly-prized edible fungus kind of truffle.
There are many types of chocolate truffle and several ways that you can include biscuits or cookies as an ingredient.
The classic chocolate truffle is the Belgian truffle, which is made of chocolate ganache and has an outer coat of solid chocolate. Swiss and French chocolate truffles are also made of ganache but are tossed in a coat of cocoa.
Not all truffles are made of ganache. As long as it is rolled into a ball and involves some kind of coating around a semi soft centre then anything goes.
What is ganache?
Chocolate ganache is a filling favoured by pastry chefs and chocolatiers. A mix of melted chocolate with cream and/or butter, it has a smooth texture that melts in the mouth. Depending on the ratio of chocolate, butter and cream it can be dense or gooey. Ganache is not difficult to make but it does need to be made with care and also needs plenty of time to cool properly.
How to make ganache
Ganache is made by heating double (heavy) cream, plus butter if using, and stirring in chopped chocolate until the chocolate is melted. This is then left to cool completely. The butter (unsalted) gives the ganache a firmer texture, a shinier finish and a real melt in the mouth quality. The exact recipe will vary depending on the final result you aim to achieve.
How to make chocolate truffles
Truffles are made by rolling cooled ganache (or alternative mixture) into balls. They are usually about 1 inch in diameter, which is a generous teaspoon of mix. The ganache can also be set in moulds. The balls are then rolled immediately in cocoa, crumb, coconut or chopped nuts. If dipping in melted chocolate then the balls are left to set on the outside first. The dipped truffles are then rolled in a coating and left to set.
How to make truffles with biscuits
There are two ways you can make truffles with biscuits. One is a no-cook version involving cocoa, condensed milk and biscuit crumb. The other is to make classic chocolate truffles like a chocolatier would make, and either incorporate the biscuit crumb into the ganache or roll the truffles in biscuit crumb. Or both. You could get pretty creative with textures and flavours. A classic truffle rolled in biscuit crumb is surprisingly good.
Essentially, there is the quick way to make biscuit truffles and the not so quick way. Both are fairly easy.
You can use most biscuits for making truffles as long as they will blitz down into a fine crumb. If you want to add biscuit to ganache, this can be in slightly larger pieces to add a contrasting crunch. Plain biscuits can be surprisingly effective, or play about with different flavours and textures. This post goes into more detail about using biscuits for crumb.
Quick and easy no-cook biscuit truffle recipe
You can use any biscuits you like for making these truffles, but they do need to be of the crunchy variety (not chewy or soft). You could experiment with cream filled biscuits yet it is probably best to start off simple.
Try making biscuit truffles with a classic anzac biscuit
Make colourful biscuit crumb truffles for the kids with angel cookies
Make nutty biscuit truffles with macadamia biscuits
350g biscuits
40g cocoa
395g tin of condensed milk
Blitz the biscuits to a fine crumb in a food processor and set aside 100g.
Mix together the rest of the biscuits, cocoa and condensed milk.
Divide the mixture using two teaspoons and roll into balls.
Roll the balls, whilst still sticky, in the remaining crumb.
Set aside to harden a little before eating.
How to roll truffles in melted chocolate
If you want to roll your truffles in melted chocolate then it is best to temper your chocolate first. Find out how to temper chocolate in this post about making chocolate bark. You can get away with not tempering, especially if you plan on rolling them straight into biscuit crumb, but you won't get that chocolate snap when you bite into them.
For rolling in biscuit crumb, you want a fine crumb that is the texture of ground almonds. Put it in a container that you can easily pick up and shake gently from side to side. Like a square plastic container.
Either way, dip the truffles into the fairly cool melted chocolate and turn them over a few times using a fork. Lift the truffle out on the fork, and let all of the excess chocolate drip back into the bowl. Once the truffle is no longer dripping with chocolate, drop it gently into your fine biscuit crumb. Move the container around so that the truffle rolls in the crumb and becomes fully coated. Place each truffle on a surface to dry and move onto rolling the next one.
Check out our range of classic Australian biscuits and cookies, or buy biscuits wholesale at our online bulk store.
---
This article was reproduced on this site only with permission from operafoods.com.au the "Gourmet Online Wholesale Grocer". See original article:- How to make Biscuit Truffles