Archives
now browsing by author
Posted by: admin | July 11, 2020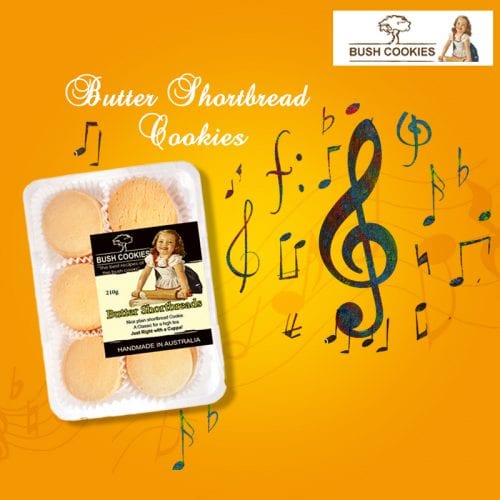 Bush Cookies supply a wide range of packaged cookies and snack foods Australia wide.. Butter shortbread cookies by Bush Cookies are traditional gourmet cookies that are ideal for morning and afternoon tea ideas. These wholesale cookies are perfect for the high tea party and any kind of social gatherings.
Shortbread is a crunchy traditional biscuit which was invented by a Scottish cook in 1736. They were named for their crumbly texture caused by their high fat content from the generous butter portions that give them their great flavor.
The basic recipe for these biscuits is traditionally one part white sugar, to two parts butter, & three parts wheat flour.
However many bakers add other ingredients like a pinch of salt and cornflour or rice flour to change the cookies texture. Some recipes alter the sugar ingredient using half icing sugar and half granulated Sugar.
A true shortbread biscuit contains no leavening agent like baking soda or baking powder used in other baked goods. Many shortbread biscuits are still called Scottish Shortbread as Scottish bakers export fancy tins of their brand of shortbread biscuits, as Christmas gifts to foreign countries all around the globe.
Traditional Shortbread biscuits are often stamped into a pattern before cooking as their stiff dough retains its shape during baking. Shortbread Biscuits are also cut into a variery of shapes to make them more interesting.
Butter shortbread cookies are delicious and nice to taste gourmet cookies.  Visit our site to know more details about the product. Book your favorite product and get online discounts from our online store. We deliver a huge bulk of cookies to most sectors of Australia.