wholesale biscuits
now browsing by tag
Posted by: Anna | July 4, 2021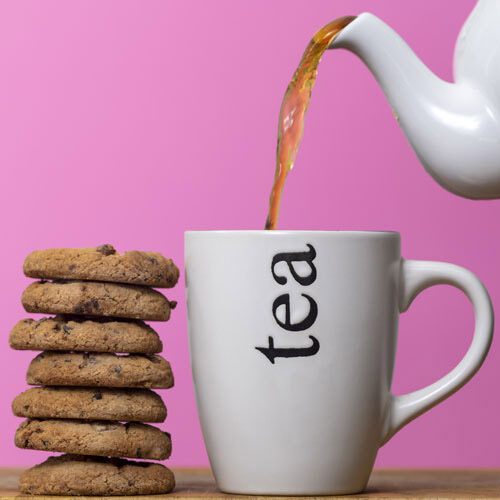 If there's one thing that we love as much as we love biscuits, it has to be tea. Tea and biscuits is the embodiment of the term 'life's simple pleasures'.
We get so caught up in the treadmill of no-dairy, no-sugar, no-caffeine that we sometimes forget that just a mindful moment with a cuppa and bickie is all we need.
But where does our love of tea and biscuits come from? Other than the fact that they are…well, bloody nice.
Tea and biscuits…in so many words.
There are many traditions that basically boil down to the same thing. A cup of tea and a little something sweet.
Afternoon tea
The forerunner of them all was probably afternoon tea. Invented by the British upper classes in the early Victorian age, afternoon tea was a light meal designed to stave off hunger in the afternoon as dinner was traditionally served late in the evening. Also known as low tea, it was served on low tables away from the formality of the dining table. A casual, although refined affair, afternoon tea consists of dainty little things served with a pot of tea. Finger sandwiches, scones, and small cakes are all typical of afternoon tea.
High tea
At around the same period, as the Industrial Revolution gathered steam, the working classes were also partaking of tea. High tea was originally a meal taken when coming in from work. Eaten at the table (the only table aka the kitchen table) this was a more substantial meal yet also accompanied by a pot of tea. There would be pie, bread, maybe some cold meat. Perhaps a loaf cake, or some crumpets. Biscuits.
The upper classes thought this was all jolly good fun and so also had their own version of high tea, taken if one was going to the theatre or something and expected a very late supper.
The term high tea is now more likely to be interchangeable with afternoon tea, and taken to mean the classic afternoon tea of tea, sandwiches and scones; usually eaten out, as a treat.
Elevenses
The changes to the working pattern of the world led to changes in the way people eat. An early start meant an early breakfast, and so the concept of a mid morning snack was born. We already understood the restorative power of a cup of tea and a biscuit, and the once expensive tea and sugar were more readily available than ever.
To this day, tea and biscuits means a break. It might be a social affair; a catch up in a cafe with a friend. It may be a solitary pleasure; a moment of me time. Whatever it may be, savour it slowly, enjoy it and appreciate it as millions of workers before you have done. And if you are one of the rare folk who doesn't like tea…
…well there's always coffee.
Check out our range of premium Australian cookies, and don't forget you can bulk buy online at our wholesale store.
Posted by: admin | July 11, 2020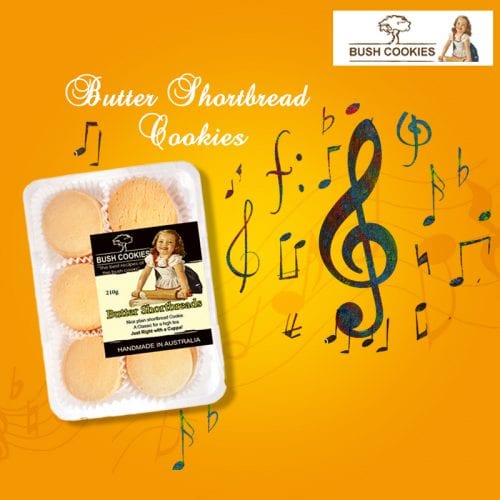 Bush Cookies supply a wide range of packaged cookies and snack foods Australia wide.. Butter shortbread cookies by Bush Cookies are traditional gourmet cookies that are ideal for morning and afternoon tea ideas. These wholesale cookies are perfect for the high tea party and any kind of social gatherings.
Shortbread is a crunchy traditional biscuit which was invented by a Scottish cook in 1736. They were named for their crumbly texture caused by their high fat content from the generous butter portions that give them their great flavor.
The basic recipe for these biscuits is traditionally one part white sugar, to two parts butter, & three parts wheat flour.
However many bakers add other ingredients like a pinch of salt and cornflour or rice flour to change the cookies texture. Some recipes alter the sugar ingredient using half icing sugar and half granulated Sugar.
A true shortbread biscuit contains no leavening agent like baking soda or baking powder used in other baked goods. Many shortbread biscuits are still called Scottish Shortbread as Scottish bakers export fancy tins of their brand of shortbread biscuits, as Christmas gifts to foreign countries all around the globe.
Traditional Shortbread biscuits are often stamped into a pattern before cooking as their stiff dough retains its shape during baking. Shortbread Biscuits are also cut into a variery of shapes to make them more interesting.
Butter shortbread cookies are delicious and nice to taste gourmet cookies.  Visit our site to know more details about the product. Book your favorite product and get online discounts from our online store. We deliver a huge bulk of cookies to most sectors of Australia.
Posted by: admin | April 4, 2020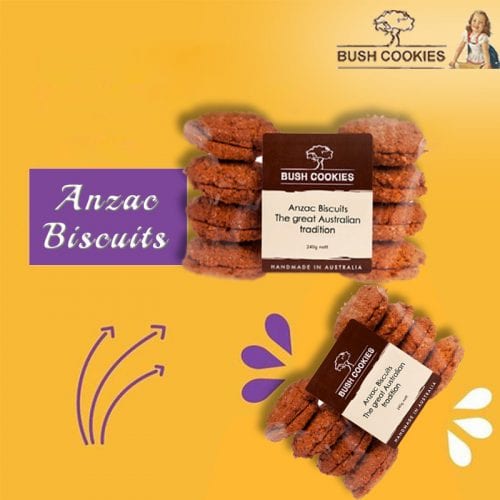 Well we can still have an Anzac Biscuit. We probable cant march this year on Anzac Day due to the important  Covid-19 Virus restrictions, but we can still celebrate the heroic deeds of those who served. Buy Bush Cookies' Anzac Biscuits for your family at your local IGA or order online direct from Bush Cookies.
Bush Cookies a Manufacturer of wholesale cookies in Australia makes a Great Anzac Biscuit. Bush Cookies provides a high quality "High Tea" gourmet cookies and biscuits. We supply great wholesale cookies in Sydney, Brisbane and Melbourne. Bush Cookies also delivers these wholesale cookies online direct in different suburbs of Australia.
Anzac Biscuits are Australian traditional oaten biscuit that is perfect as an all-rounder. Anzac Biscuits by Bush Cookies are handmade gourmet biscuits that you will adore in every moment. These gourmet cookies are ideal for morning tea. You can also enjoy with coffee as an alternative. These biscuits may remind of your grandmother who probably used to make these types of cookies.
For more information, visit our site. Book your favorite bulk biscuits now at parent company operafoods.com.au and get an online discount for volume on these products with home delivery.
Posted by: admin | March 6, 2020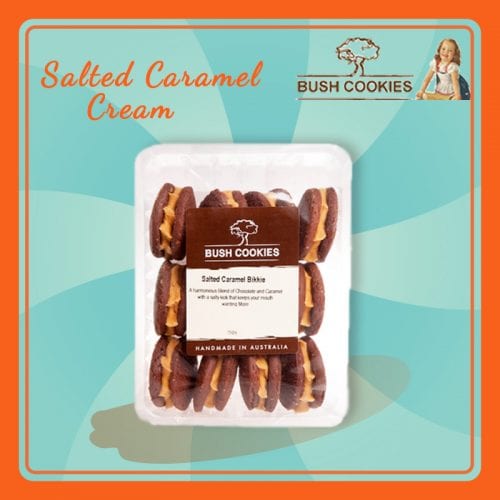 Salted Caramel Creams by Bush Cookies is perfect cream biscuit when you actually need to pamper anyone in life. Bush Cookies are wholesale biscuit manufacturers which distribute Australia's best cookies. Salted Caramel Cream biscuits are a crunchy caramel biscuit which is filled with a caramel cream.  These biscuits are handmade gourmet cookies. Our Salted caramel cream is ideal for afternoon and morning tea ideas.
Bush Cookies brand Salted caramel cream is available from many IGA Stores and greengrocers and from all Harris Farm Markets stores.
Visit our site to know more information about the product. Our parent company Opera Foods supply gourmet packaged wholesale cookies to  retailers in Brisbane, Melbourne as well as Sydney. Book your favorite product now and get online discounts.
Posted by: admin | November 14, 2019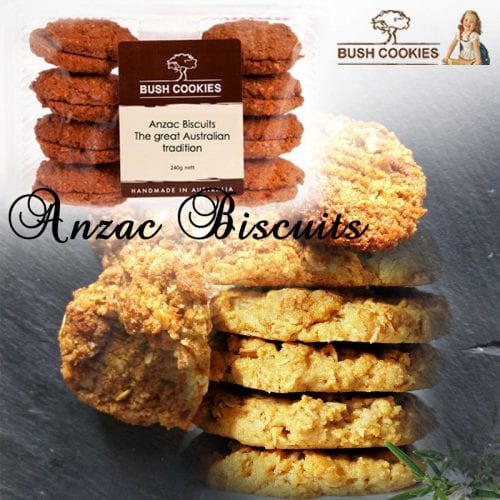 Bush Cookies make tasty and superior Anzac Biscuits. These Anzac biscuits are perfect for morning and evening tea ideas. Anzac biscuits will remind people of the days of grandmothers handmade biscuits. These Anzac biscuits are Australian traditional oaten biscuits which are round in shape. The name of Anzac biscuits is quite common with the traditional Australian oaten biscuits.
This kind of biscuits are similar to hard tack biscuits utilized by the Anzac soldiers during World War I. But they are more like the kind families home baked and sent to the soldiers. These style of  biscuits were always used to make long-life dry rations for the soldiers and sailors. Earlier it was termed as Dhourra Cake by the Egyptian mariners and the Roman people used to term as buccellum in the regions of Roman. It was the British royal navy who first used to mass produce this kind of hardtack bulk biscuits. Anzac biscuits are a modern version of plain hardtack biscuits.
Australian Anzac biscuits are simple and sweet. The main ingredients of Anzac biscuits are sugar, brown sugar, water, golden syrup, milk solids, butter, wheat flour, and baking soda, rolled oats, coconut and many more.
Opera Foods distribute our Bush Cookies brand packaged for independent grocers. Buy Anzac wholesale biscuits now and avail our online discounts on this product.
Posted by: admin | November 3, 2019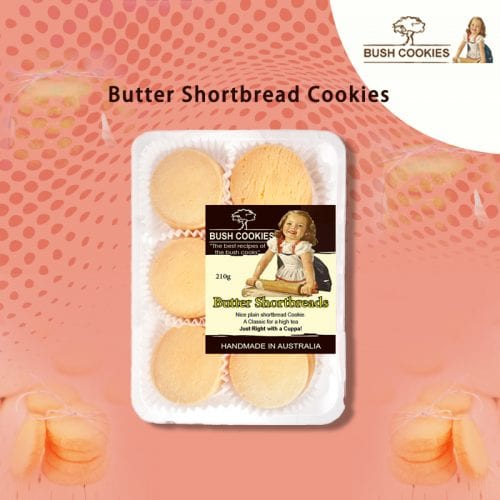 Bush Cookies produce great cookies and Butter Shortbread cookies are very much popular among them. Their nice simple taste that isd  buttery and crunchy makes them an excellent snack with a cup of tea.. Butter shortbread cookies are palatable simple shortbread cookies. Butter shortbread cookies are an ideal crunch for morning and afternoon tea. These cookies are perfect for wedding ceremony, anniversaries and any kind of social gatherings. The ingredients of butter shortbread cookies aresimply  flour, icing sugar, milk, wheaten corn flour, wheat starch, butter and more.
These are handmade wholesale cookies in Australia. Butter shortbread cookies will remind of wonderful that old fashioned butter cookies which is used to available in tins during Christmas time. Shortbread recipes were initially imported NSW Australia, but it gradually became popular in different parts of the countries among outback cooks for their simplicity. Our butter shortbread cookies are generally of round shapes.
Bush Cookies are producers of Café Biscuits wholesale. Retailers can contact our parent Company, Opera Foods to order in bulk. We provide unique brands of fresh packaged biscuits & cookies at an affordable price for independent grocers.
Posted in About Cookies | Comments Off on Butter Shortbread Cookies are Perfect for Morning Tea or Afternoon Tea
Tags: biscuit distributor, bulk biscuits, bulk biscuits suppliers, bush cookies, butter shortbread, cafe biscuits wholesale, cookie wholesale distributors, packaged cookies, shortbread, wholesale biscuit suppliers, wholesale biscuits, wholesale cookies

Posted by: admin | October 12, 2019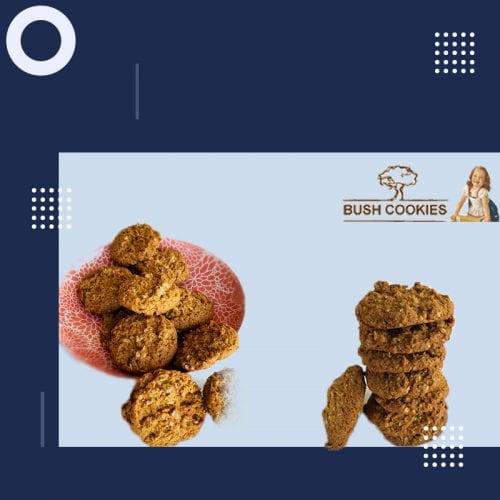 Anzac Biscuits is a colloquial name given to oaten biscuits. They should never be referred to as a Anzac cookies. The name stems from the most common biscuit parcels sent to the Diggers. Also and their similarity to hardtack  biscuits traditionally used by the armed forces. They are produced in Australia by the brand name of Bush Cookies.
Bush Cookies is one of the oldest bakers of Australian hand made packaged wholesale biscuits and cookies. It is an Australian manufacturer as well as a supplier of bulk biscuits to grocery retailers. Anzac Biscuits are referred to as the traditional oaten Australian biscuit that is generally round in shape.
Aussie Anzac biscuits are basically handmade gourmet biscuits. It is generally taken with morning teas and evening snacks. Our Anzac biscuits are made up of sugar, water, golden syrup, milk solids, butter, brown sugar and many more. It is rich in protein, fats, carbohydrates, sodium, and sugar. The ingredient of Anzac biscuits makes it crunchier and softer as well as slightly sugary although it cannot be completely regarded as the classical sweet biscuit.
Bush Cookies is a registered wholesale cookies company producing delicious cookies and Bickies.
Posted in About Cookies | Comments Off on Anzac Biscuits – Taking Forward Legacy of the Great Australian Tradition
Tags: anzac, anzac biscuits, anzac cookies, anzacs, australian biscuits, biscuit distributor, bulk biscuits, bulk biscuits suppliers, bush cookies, cafe biscuits wholesale, opera foods, wholesale biscuit suppliers, wholesale biscuits, wholesale cookies

Posted by: admin | August 31, 2019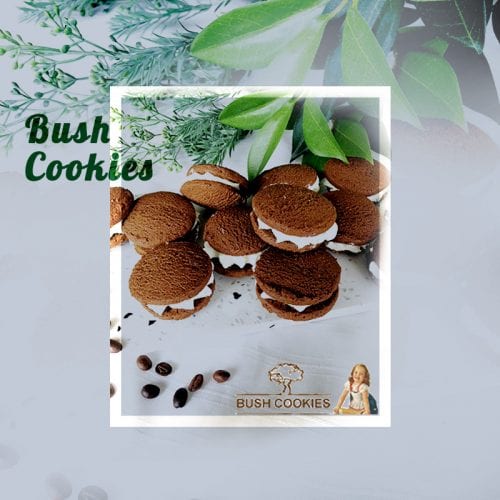 Coffee Cream Cookies by Bush Cookies are considered an Australian favorite among coffee flavor lovers. It is considered to be one of the distinguishing ingredients across the world. The main ingredients of Coffee Cream Cookies are flour, sugar as well as brown sugar and of course chocolate and a little coffee. There are certainly other variations that are included in chocolate chip cookies Also Anzac cookies with as nuts, oatmeal, and peanut butter. Our cookies are not meant to be good for your health so much as good for the soul. So in that way they might help take your blood pressure down.
Many people prefer to have Australian biscuits with morning coffee and also as a snack. Moreover, bush cookies can be eaten with milk and it can also be enjoyed after school hours, just going before bed, people can have cookies during any period during the day to satisfy their hunger.
Bush Cookies deals in café biscuits wholesale; we manufacture and deliver cookies to certain areas in Australia at an affordable price. Book your first order from our parent company Opera Foods to avail huge discounts and offers.
Posted in High Tea | Comments Off on Coffee Cream Cookies Might help your Blood Pressure
Tags: australian biscuits, biscuit distributor, bulk biscuits, bulk biscuits suppliers, coffee, coffee biscuits, coffee cookies, coffee cream biscuits, coffee cream cookies, cookie supplies, cookie wholesale distributors, cookies wholesale prices, wholesale biscuits, wholesale cookies

Posted by: admin | August 30, 2019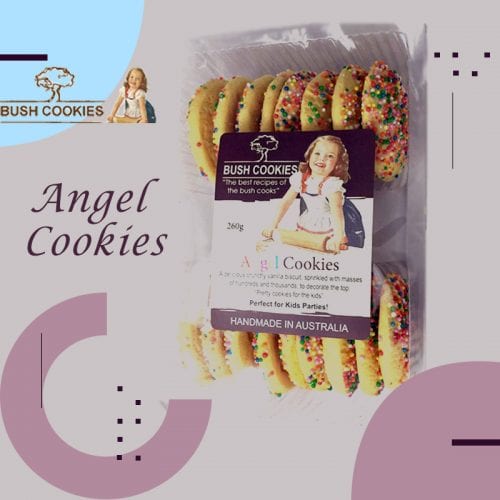 Bush Cookies are a family-owned business of Cookies and Bickies.  We have a large range of packaged biscuits which are perfect as snacks for little kids. These colorful cookies can be used to engage your kids while you are chilling down with your friends and family at events and functions. Cookies are the perfect snack food for a high tea party. Our cookies and Bickies have a good shell life which will make the customers return for more; these tasty wholesale cookies will surely give you the melting moments which you have been craving for from a long time.
Our Angel cookies are a favorite among Kids party food because of its high quality, we stand out among top quality brands because of our unique mix of crunchiness and taste. These cookies are completely filled with vanilla and hundreds and thousands of nonpareil sprinkles are sprinkled to make it look more attractive.
Bush Cookies offers a good range of "High Tea" cookies and wholesale biscuits. We supply consumers online great wholesale cookies and for retailers to avail great discounts book from our parent website Opera Foods.
Posted in About Cookies | Comments Off on Angel Cookies a favorite among Kids
Tags: Angel Biscuits, Angel Cookies, australian biscuits, biscuit distributor, bulk biscuits, bulk biscuits suppliers, bush cookies, cookie supplies, cookie wholesale distributors, opera foods, sprinkes, Sprinkle Cookies, wholesale biscuit suppliers, wholesale biscuits, wholesale cookies

Posted by: admin | August 25, 2019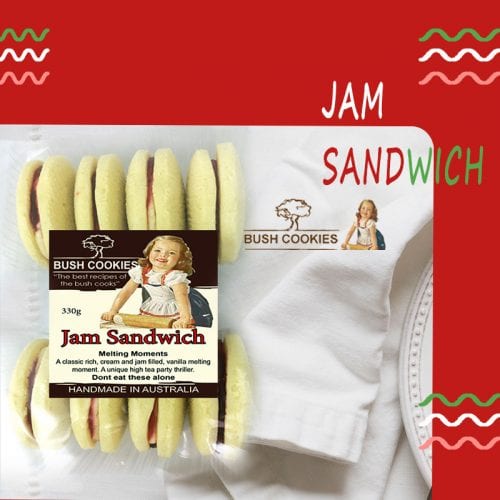 Jam Sandwich from Bush Cookies is a  classic rich melting moment style cookie which is filled with a vanilla cream and has jam sandwiched between wafers.
Bush Cookies are a wholesale cookies distributor in Australia. Over the years we have specialized in providing a variety of cookies which are made in HACCP certified conditions from the recipes of Australia's old bush cooks.
Bush Cookies have a wide range of cookies from where you can select for your morning tea ideas to high-end tea parties. All our cookies are special handmade gourmet cookies which melt in your mouth hence giving a magic melting moment which you have dreamed or heard about.
Bush Cookies is a favorite among quality range of bickies and cookies brand in Australia. We are a wholesale supplier of cookies and snacks in Australia. We deliver unique packaged biscuits to independent supermarkets and greengrocers. We also sell online direct to consumers and overnight around the suburbs of Melbourne, Sydney, and Brisbane.
To order bulk biscuits at an affordable price and gather loyalty points visit our parent company Opera Foods.
Posted in About Cookies | Comments Off on Jam Sandwich The Best Recipe Of Bush Cooks
Tags: australian biscuits, biscuit distributor, bulk biscuits, bulk biscuits suppliers, bush cookies, cafe biscuits wholesale, cookie supplies, cookie wholesale distributors, jam sandwich, melting moments, opera foods, wholesale biscuit suppliers, wholesale biscuits, wholesale cookies