Jam Sandwich The Best Recipe Of Bush Cooks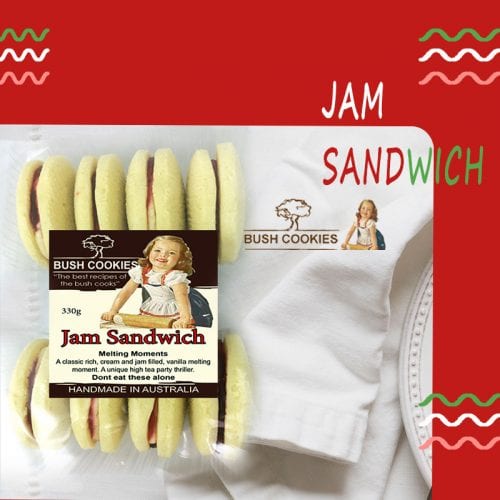 Jam Sandwich from Bush Cookies is a  classic rich melting moment style cookie which is filled with a vanilla cream and has jam sandwiched between wafers.
Bush Cookies are a wholesale cookies distributor in Australia. Over the years we have specialized in providing a variety of cookies which are made in HACCP certified conditions from the recipes of Australia's old bush cooks.
Bush Cookies have a wide range of cookies from where you can select for your morning tea ideas to high-end tea parties. All our cookies are special handmade gourmet cookies which melt in your mouth hence giving a magic melting moment which you have dreamed or heard about.
Bush Cookies is a favorite among quality range of bickies and cookies brand in Australia. We are a wholesale supplier of cookies and snacks in Australia. We deliver unique packaged biscuits to independent supermarkets and greengrocers. We also sell online direct to consumers and overnight around the suburbs of Melbourne, Sydney, and Brisbane.
To order bulk biscuits at an affordable price and gather loyalty points visit our parent company Opera Foods.