butter shortbread
now browsing by tag
Posted by: Anna | March 22, 2021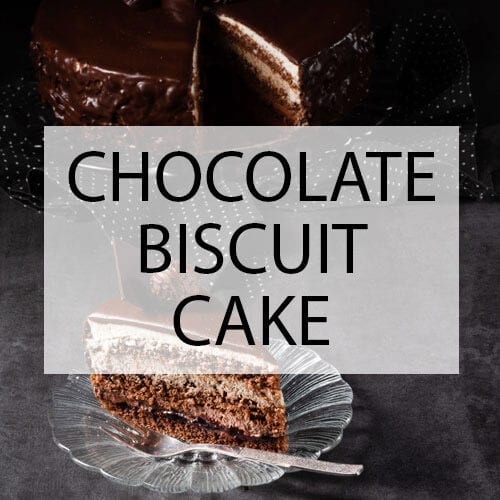 Chocolate biscuit cake, depending on who you ask, ranges from broken up biscuits in a sort of solid ganache (aka fridge cake) to putting biscuit crumb in actual cake batter.
Then there's a sort of layer cake made from plain biscuits, maybe soaked in a little alcohol, and sandwiched with sweetened cream. As if that weren't enough, there is the Australian classic – the chocolate ripple biscuit cake.
All of them have a lovely 1950s housewife feel to them. A time when food out of the packets was the new frontier and baking ingenuity knew no bounds.
How to make cake using biscuits
What they all have in common is biscuits. Yay. And chocolate. Unless you feel particularly inventive, in which case you could go beyond chocolate and try different types of biscuits and frostings. This will only really work with the ripple biscuit/layer cake style scenario. Fridge cake wouldn't be fridge cake without chocolate. It wouldn't stick together for a start. You could try white chocolate, that could be good.
And they involve no cooking, unless you count a bit of melting or whipping. If that is too much of a stretch for you, then you can just eat biscuits straight from the packet and be done with it…
Broken biscuit cake
Also known as biscuit fridge cake, or tiffin, this is that deliciously moreish wedge of chocolate crammed with bits of biscuit. It manages to be dense and toothsome, yet soft, all at the same time. sometimes it has other things inside too, such as cherries.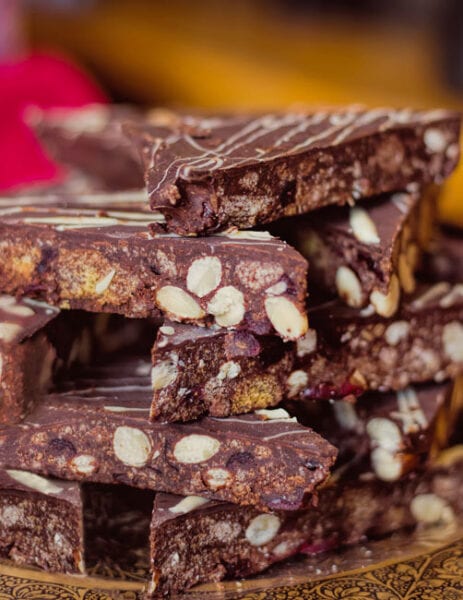 Basic recipe for chocolate fridge cake using condensed milk
1 can condensed milk
3/4 cup butter
1 cup chocolate chunks
1 pack plain biscuits
Line a tin or any shallow container with greaseproof paper
Break the biscuits into a large bowl
In a small pan over a low heat, melt the butter, condensed milk, and chocolate together.
Mix this into the biscuits.
Press into the tin and chill in the fridge for several hours or until set.
Chocolate ripple biscuit cake
Chocolate ripple cake is the stuff of childhood fantasy. It centered originally around the particular texture (or maybe widespread availability) of the chocolate ripple biscuit. If you feel brave enough to break free of tradition then you could try a triple choc chip cookie. You could dispense with the chocolate altogether, and experiment with anzac biscuits or maybe a coffee cream? Just saying.
If you do feel the need to behave in such an outrageous manner there is only one rule. You have to keep it kitchy cool.
This biscuit cake is made by whipping cream, with a touch of icing sugar and a dash of vanilla, and sandwiching the biscuits together. Do them in groups of four, and lie the stacks on a plate so that the biscuits are horizontal. So that you have the cross section of stripes when you cut into it. Lay three or four stacks in a length so that you have a log shape. Now cover the whole lot with more softly whipped cream. Decorate with broken chocolate biscuits, lollies, or whatever else you fancy.
You could add Baileys or another alcohol to the cream. You do need to be careful when adding liquid/alcohol/vanilla to cream as it may seize. Or just pour a few shots of alcohol over the biscuit stacks.
You could use frosting instead of cream. Or the chocolate mix from the tiffin above. A chocolate glaze is a nice addition. To make a chocolate glaze simply stir a teaspoon of vegetable oil into melted chocolate and pour it on.
Cream cheese and orange biscuit cake
Here's a nice cream cheese frosting with a bit of orange zest and a little honey. Maybe a touch of cinnamon and these ginger and date biscuits?
Mix 600g cream cheese with 200g soft unsalted butter and 100g of icing sugar. Stir in 2 tbsp honey and the zest of 1 or 2 oranges.
Italian biscuit cake 
In Italy, of course, they make their fridge cake with style. Not only will it include things like pistachios and candied peel, but is rolled into a sausage shape and tied up with string like an actual salami. It is even called chocolate salami.
Rocky road biscuit cake
Good old rocky road. Not to be messed with, it is simply fridge cake but with mini marshmallows and raisins. Milk chocolate please.
How to store chocolate biscuit cake
Whatever road of biscuit cake you choose to follow, it belongs in the fridge. Where it will live quite happily for 3 days if it has fresh cream or over a week if it does not.
How creative can you get with a packet of biscuits? What do you think is the best biscuit for a biscuit cake? Don't forget to take advantage of wholesale prices at our bulk food store.
Posted by: admin | July 11, 2020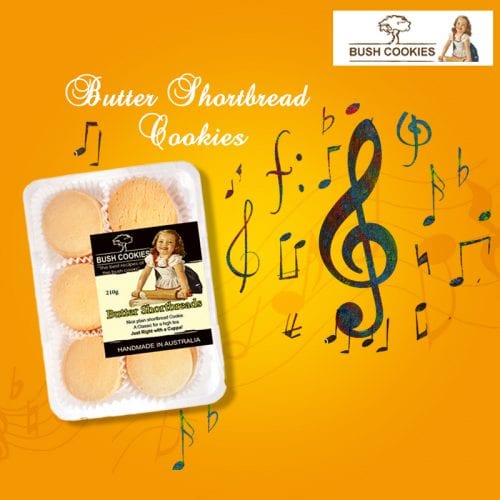 Bush Cookies supply a wide range of packaged cookies and snack foods Australia wide.. Butter shortbread cookies by Bush Cookies are traditional gourmet cookies that are ideal for morning and afternoon tea ideas. These wholesale cookies are perfect for the high tea party and any kind of social gatherings.
Shortbread is a crunchy traditional biscuit which was invented by a Scottish cook in 1736. They were named for their crumbly texture caused by their high fat content from the generous butter portions that give them their great flavor.
The basic recipe for these biscuits is traditionally one part white sugar, to two parts butter, & three parts wheat flour.
However many bakers add other ingredients like a pinch of salt and cornflour or rice flour to change the cookies texture. Some recipes alter the sugar ingredient using half icing sugar and half granulated Sugar.
A true shortbread biscuit contains no leavening agent like baking soda or baking powder used in other baked goods. Many shortbread biscuits are still called Scottish Shortbread as Scottish bakers export fancy tins of their brand of shortbread biscuits, as Christmas gifts to foreign countries all around the globe.
Traditional Shortbread biscuits are often stamped into a pattern before cooking as their stiff dough retains its shape during baking. Shortbread Biscuits are also cut into a variery of shapes to make them more interesting.
Butter shortbread cookies are delicious and nice to taste gourmet cookies.  Visit our site to know more details about the product. Book your favorite product and get online discounts from our online store. We deliver a huge bulk of cookies to most sectors of Australia.
Posted by: admin | November 3, 2019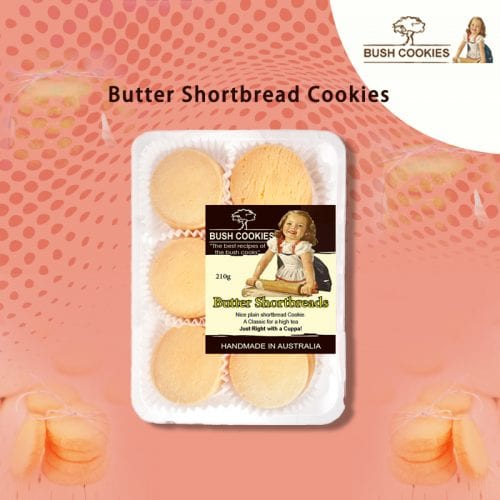 Bush Cookies produce great cookies and Butter Shortbread cookies are very much popular among them. Their nice simple taste that isd  buttery and crunchy makes them an excellent snack with a cup of tea.. Butter shortbread cookies are palatable simple shortbread cookies. Butter shortbread cookies are an ideal crunch for morning and afternoon tea. These cookies are perfect for wedding ceremony, anniversaries and any kind of social gatherings. The ingredients of butter shortbread cookies aresimply  flour, icing sugar, milk, wheaten corn flour, wheat starch, butter and more.
These are handmade wholesale cookies in Australia. Butter shortbread cookies will remind of wonderful that old fashioned butter cookies which is used to available in tins during Christmas time. Shortbread recipes were initially imported NSW Australia, but it gradually became popular in different parts of the countries among outback cooks for their simplicity. Our butter shortbread cookies are generally of round shapes.
Bush Cookies are producers of Café Biscuits wholesale. Retailers can contact our parent Company, Opera Foods to order in bulk. We provide unique brands of fresh packaged biscuits & cookies at an affordable price for independent grocers.
Posted in About Cookies | Comments Off on Butter Shortbread Cookies are Perfect for Morning Tea or Afternoon Tea
Tags: biscuit distributor, bulk biscuits, bulk biscuits suppliers, bush cookies, butter shortbread, cafe biscuits wholesale, cookie wholesale distributors, packaged cookies, shortbread, wholesale biscuit suppliers, wholesale biscuits, wholesale cookies