Afternoon tea or high tea? Who cares as long as there's tea and biscuits…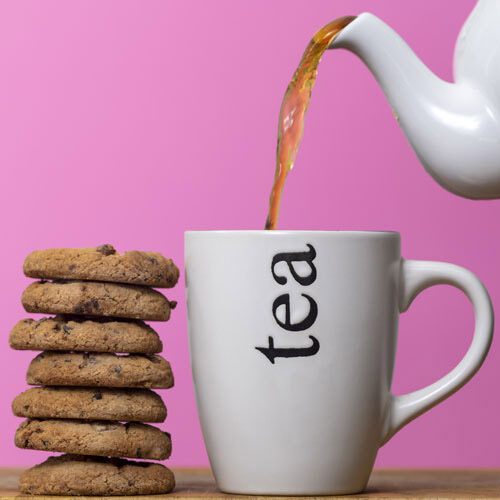 If there's one thing that we love as much as we love biscuits, it has to be tea. Tea and biscuits is the embodiment of the term 'life's simple pleasures'.
We get so caught up in the treadmill of no-dairy, no-sugar, no-caffeine that we sometimes forget that just a mindful moment with a cuppa and bickie is all we need.
But where does our love of tea and biscuits come from? Other than the fact that they are…well, bloody nice.
Tea and biscuits…in so many words.
There are many traditions that basically boil down to the same thing. A cup of tea and a little something sweet.
Afternoon tea
The forerunner of them all was probably afternoon tea. Invented by the British upper classes in the early Victorian age, afternoon tea was a light meal designed to stave off hunger in the afternoon as dinner was traditionally served late in the evening. Also known as low tea, it was served on low tables away from the formality of the dining table. A casual, although refined affair, afternoon tea consists of dainty little things served with a pot of tea. Finger sandwiches, scones, and small cakes are all typical of afternoon tea.
High tea
At around the same period, as the Industrial Revolution gathered steam, the working classes were also partaking of tea. High tea was originally a meal taken when coming in from work. Eaten at the table (the only table aka the kitchen table) this was a more substantial meal yet also accompanied by a pot of tea. There would be pie, bread, maybe some cold meat. Perhaps a loaf cake, or some crumpets. Biscuits.
The upper classes thought this was all jolly good fun and so also had their own version of high tea, taken if one was going to the theatre or something and expected a very late supper.
The term high tea is now more likely to be interchangeable with afternoon tea, and taken to mean the classic afternoon tea of tea, sandwiches and scones; usually eaten out, as a treat.
Elevenses
The changes to the working pattern of the world led to changes in the way people eat. An early start meant an early breakfast, and so the concept of a mid morning snack was born. We already understood the restorative power of a cup of tea and a biscuit, and the once expensive tea and sugar were more readily available than ever.
To this day, tea and biscuits means a break. It might be a social affair; a catch up in a cafe with a friend. It may be a solitary pleasure; a moment of me time. Whatever it may be, savour it slowly, enjoy it and appreciate it as millions of workers before you have done. And if you are one of the rare folk who doesn't like tea…
…well there's always coffee.
Check out our range of premium Australian cookies, and don't forget you can bulk buy online at our wholesale store.