Cookie Recipes
now browsing by category
Like to bake some cookies for your little monsters? We'll show you how with some great Cookie recipes.
Hey, were not going to publish our secret recipes but there are plenty of other good bickkie recipies around.
Posted by: admin | August 24, 2015
What is the difference between Freckle Bickkies, Smarty Cookies or M & M Cookies we get asked. Well they are pretty much the same thing.
Chocolate Smarties are different brand of a similar candy coated chocolate buttons product to M & Ms. Bush Cookies just happen to use chocolate M & Ms in our Freckle Bikkie as a variation to Chocolate Chips. Below is a basic recipe for baking either Chocolate chip Cookies,  Smarty Cookies , M & M Cookies or as Bush Cookies call them Freckle Bikkies.
Ingredients.
1/2 cup butter
3/4 cup brown sugar
1  egg
1 teaspoon vanilla extract
1 cup flour
1/2 teaspoon baking soda
1 pinch salt (optional)
1 cup milk chocolate chips
1 cup smarties (or 1 cup M&M's or just use 2 cups milk chocolate chips)
Preheat your oven to 320 degrees Fahrenheit
Combine in a your bowl: Flour, baking soda and salt
Then beat butter and sugar together in a mixer.
When well creamed (when you can see no yellowpeices) mix in the vanilla and the egg and beat them together.
Next you slowly add the dry ingredients and when well combined mix in the chocolate chips (or Smarties or M & Ms)
Let the batch cool in the fridge for 40 minutes
Then make little balls of dough by hand and flatten on to a cookie sheet.
Bake them at 325 Fahrenheit for around 20 minutes depending on size of the cookie formations.
When baked take then from the oven and cool them on the cookie sheet for a few minutes then place them on your wire cooling rack.
When cooled find a quite place to gobble them by your self with a glass of milk or a cup of black tea.
NOTE: Food recipes produce different results for different people, as ingredient specifications vary in different regions, stoves are not all accurate in temperature settings or air movement, and people mix the ingredients in different ways. This in not one of the Bush Cookies secret recipes, but a popular recipe published on the internet by an unknown author.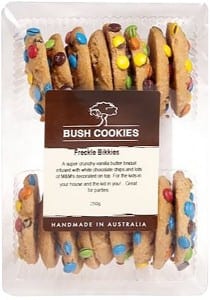 You can of course achieve a perfect cookie every time by buying a Bush Cookies Freckle Bikkie or Bush Cookies Chock Chip cookie from a gourmet grocery store near you.
Freckle Bikkie.
A super crunchy vanilla butter biscuit infused with white chocolate chips and loads of chocolate M & Ms. For the lad in our house or the lad in you.
Posted by: admin | April 10, 2015
Starfish Cookies are fun to make especially for the Kiddies
Ingredients
250g soft butter
1 cup caster sugar
1 egg
1 tsp vanilla essence
3 cups plain flour
Star-shaped biscuit cutters
Directions:
1. Preheat oven to 180°C. Line 2 baking trays with baking paper.
2. In a large bowl, beat butter and sugar with electric beaters until smooth and creamy. Add egg and vanilla and beat until well combined. Stir in flour.
3. Roll out on a lightly floured surface until 5mm thick. Cut out star shapes with biscuit cutters.
4. Transfer to baking tray and bake for 15 minutes or until golden. Set aside to cool completely and decorate.
Posted by: admin | April 10, 2015
Try these yummy biscuits for your next morning or afternoon tea date.

Makes 15
Preparation time: 15 minutes
Cooking time: 20 minutes

Ingredients

3 tsp Flora pro-activ Original/Buttery*
1 tsp honey
1 cup flaked almonds*
1/4 cup traditional wholegrain oats*
1/2 cup caster sugar
1 egg white*
1/4 cup flaked almonds, extra*
1/3 cup plain, unsalted pistachio kernels*
1/2 – 1 tsp icing sugar, sifted for serving

*Products available with the Heart Foundation Tick. Remember all fresh fruit and vegetables automatically qualify for the Tick.

1. Place Flora pro-activ and honey in a microwave-safe bowl and melt on 20 per cent (low) power for 30-40 seconds.

2. Place the almonds, oats and sugar in the bowl of a food processor and process for 30 seconds or until fine. With the mixer running, pour in the egg white and honey mixture and process for 40 seconds or until the mixture forms a smooth paste. Transfer mixture to a small bowl, cover and refrigerate for 1 hour.

3. Preheat oven 150°C and line a baking tray with baking paper.

4. Roughly chop the extra almond flakes and pistachios and mix well to combine. Shape the mixture into small balls and slightly flatten. Roll in the combined almonds and pistachios, pressing the nuts firmly into the mixture. Place on the baking tray and bake for 20 minutes or until the biscuits are lightly browned. Cool on the baking tray before serving, and then sprinkle lightly with icing sugar.

5. Serve with a pot of tea.
Recipe provided courtesy of Flora pro-activ spread.
Posted by: admin | April 10, 2015
Anzac biscuits are always popular. Here is a recipe from the Australian Heart Foundation Site. Why not make a donation to the Australian Heart Foundation
Anzac biscuits
These classic biscuits are a simple and delicious treat. Perfect with morning or afternoon tea.
Makes 12
Cooking time: 15 minutes
Ingredients
1 1/2 cup Lowan Rolled Oats*
1/2 cup plain flour
1/2 cup sugar
90g Tick approved margarine
1 tbs golden syrup
1 tbs boiling water
1 tsp bicarbonate of soda
1. Pre-heat oven to 180ºC (160ºC fan-forced).
2. Mix together the oats, flour and sugar in a medium bowl.
3. Using a microwave oven or stove top, heat margarine together with golden syrup until melted.
4. In a small bowl, combine water and bicarbonate of soda then add into the golden syrup mix while stirring.
​5. Pour syrup into the dry ingredients and mix together to combine.
6. Roll a tablespoon of mixture into balls and place on baking trays lined with non-stick baking paper. Press down tops to flatten slightly.
7. Bake for approximately 13 minutes or until golden brown. Stand for 5 minutes before transferring to a wire rack to cool.
NB Recipe and image provided courtesy of Lowan Whole Foods.